Senior Andy Biemer Experiences a World of Cultures
Imagine being born in Las Angeles (LA), California, then move to Hawaii, then moving to Korea, and finally moving to Pennsylvania, all before you've even graduated from high school.
Senior Andy Biemer was born in LA, and his family lived there for a year before moving to Hawaii. Here, they lived for 12 years. Then, the family moved to Korea for five years.
Andy's mother is Korean while his dad is an American. Andy has two brothers one that's 16 and one that's 12.
Because Biemer's Dad is American, the boys all got to choose whether they wanted American citizenship–despite having lived in another country.
Andy loved Hawaii; his family moved there because his dad got a job opportunity to work at a church. "My dad did everything for the church from changing light bulbs to preaching," said Biemer.
Additionally, it's no surprise, but Biemer loved the geography of Hawaii, too. "I loved the beaches; the temperature was always perfect 75-85."
Biemer's mother wanted him to be bilingual and learn Korean as well as English. While she spoke Korean to him, she thought the best way for him to truly learn the language was to move to Korea.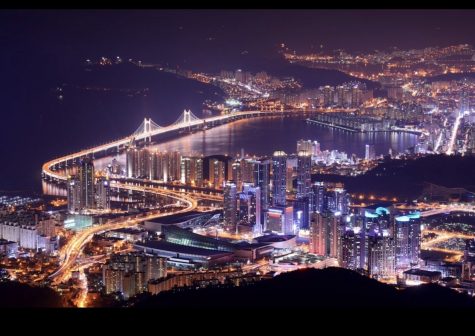 Since Biemer had been in the American school system from kindergarten to eighth grade, he was used to speaking English, but when he moved to Korea it was a cultural shock.
Clearly, there are many differences between school in America and Korea. For example, students stay in the same classrooms while the teachers switch around.
You also don't get to pick your classes; the school assigns them to you. Students also cannot drive to school, "Their transportation is so good it's like you don't need a car," said Biemer.
A normal school day for middle school in Korea is 8:00-4:00 p.m.; in high school, it's 7:30-4:30.
In Korea, sports is very important. "It's almost like training for the army," said Biemer. They separate you into groups like ones that can be professional, and ones-that are not that good. They practice all weekend and sometimes skip classes to practice more.
Korea is very strict, such as when you want to greet a teacher you have to bow, or they see it as disrespectful.
And being disrespectful was cause for serious punishment. "There was one gym teacher who had a giant, bamboo stick, and if you didn't do something right, she would hit you," said Biemer.
Biemer stayed in Korea for five years, but struggled because of the language barrier. " I could pick up some words since my mom spoke some, but I wasn't fluent."
His parents saw him struggling, so they decided to move him back to the states. They sent him to stay with his aunt in Pennsylvania. His family had to stay in Korea because of their jobs.
Biemer came to the state in June of last year. His most memorable experience of his first year in the state was that he got to see snow for the first time.
He is also enjoying his time at our school; "I love KD, I love the people here," said Biemer.