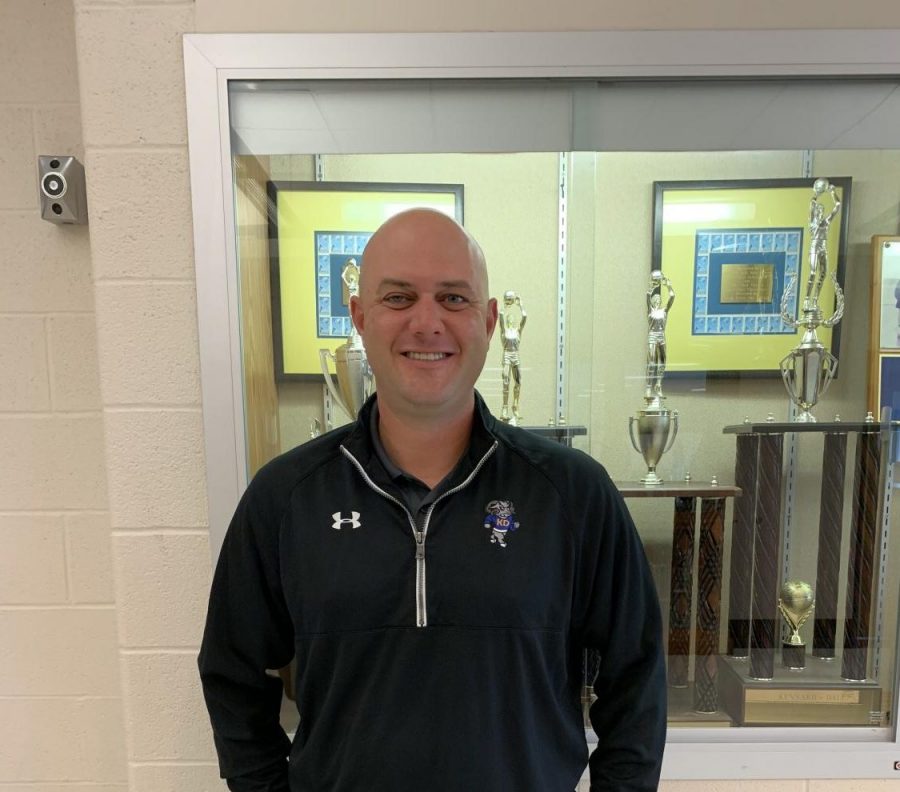 Alumni Mike James' Changes His Life for the Better
Alumni Mike James was an unorganized, undisciplined student throughout highschool. He did not put forth his best effort in classes unless he liked them–even his favorite class,  Social Studies. It may have taken him most of his high school career, but he did learn the value of focus and hard work, and this changed his life for the better. 
James graduated in the class of 1999, in the high school which is now our middle school. He moved to Pennsylvania in 1995 due to the Maryland migration and was learning to fit in to a new school/community. During school he was very unmotivated, and due to lack of discipline, he had plenty of detentions. 
James had no idea what he wanted to be or do with his life upon graduation, so in October of his senior year, he made the decision to join the United States Army. He chose to do this because he knew he needed a way to pay for future education when he was ready to take everything seriously. 
During his collegiate career, he took his time and education seriously . James attended Central Texas University, a semester at Millersville, and finally finished through American Military University online. He graduated with a Bachelor of Arts (BA) degree in American History with honors and wants to pursue a Masters Degree in either Business or Counseling.
James career is currently with the PA Army National Guard since August of 2003, and there is a lot of physical and mental education and training. 
"The mental education consists of drive, determination, weapons, basic medical, etc. After basic training, the military is structured for professional development. As you ascend through the ranks you must attend Basic, Advanced, and Senior leadership courses. You also attend many other schools to broaden your skill set such as Master Driver course, Emergency Medical Technician course, etc."
His current job is the most difficult  job he has had in twenty years of Military service. James is a Senior Recruiting and Retention Sergeant for the PA Army National Guard. His days are extremely busy and time management is a mandatory skill to master. He travels most of the day  to high schools, such as: Red Lion, Susquehannock, and even our own. James does this to coordinate meetings with students and school staff, taking applicants to the Military Entrance Processing Station, and planning future events, etc. 
James advice to students who are in the same position that he was in when he was in high school is to pay attention, listen to your teachers, and put forth effort to do the best you possibly can. 
James said "high school is the EASIEST part of your life. You have little responsibility, a roof over your head, food in your stomach, and guidance on a daily basis. Once you leave high school and hit the real world, things aren't as simplistic and friendly. Set yourself up as best as you can to achieve goals and become a successful adult in whatever career field you choose. Life isn't easy, but you can set yourself up and make it easier with hard work, dedication, and by treating people right !"
James life is completely different now than in school. He is much more disciplined and self- motivated, and he does whatever he can to help other people. He has a wide variety of friends and acquaintances, continues to play sports, and enjoys doing yard work. 
James said, "I make 100% sure that I learn something new everyday and to try my hardest in everything that I do."  All it takes is effort and finding something you enjoy doing!