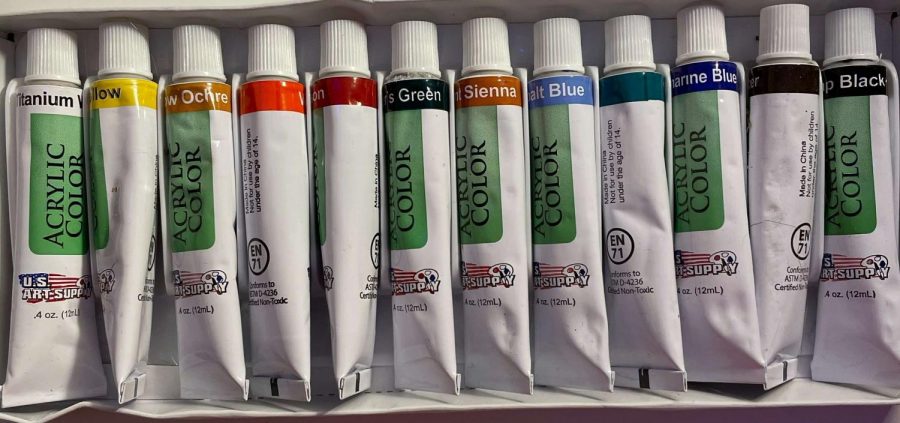 If you are looking to begin learning how to draw or paint and are wondering what supplies you need to start with, this is a list of top ten best art supplies for beginners. In this article, you'll learn about each art supply and what brands to buy. 
1. Sketchbook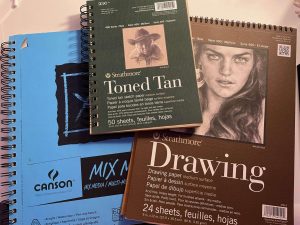 To start off any artistic career, you are going to need something to draw on, while keeping your art in good shape. A sketchbook is the perfect way to organize your art the way you desire, as well as experiment with different mediums however you'd like.
With a sketchbook, you may practice drawing your favorite animal, shading, body proportions, as well as many other drawing skills. Even if you start with a different medium (other than a pencil), there are specific sketchbooks for those materials. 
Some great sketchbook brands to start off with are Strathmore or Canson. 
Strathmore has various options when it comes to paper. Their brand includes paper specifically for graphite pencil, colored pencil, charcoal, sketching stick, pen & ink, marker, soft pastel, mixed media, and oil pastel. Based on which material you start with, Strathmore has plenty of alternatives.
Canson has a wide variety of papers as well; however, their paper can have a lot of texture and a heavier cardstock-like build. Generally, it's all based on your preference and what substance you use. Canson has paper for mixed media (all mediums), marker, drawing, sketch, bristol, and even recycled paper.
2. Pencils (Graphite)
Graphite pencils are a basic art material to start off with. Graphite pencils often go in an order (B and H; B being darker, H being lighter) and you need to know this prior to purchasing them. Based on what type of definition you want in your sketch, that's how you'll know what pencil to use. These pencils are mainly created for sketches with a lot of shading and blending. If you sketch a lot, purchase these right away!
3. Colored Pencils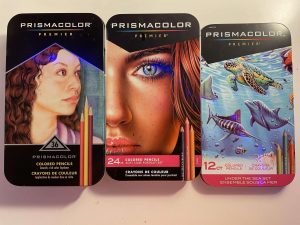 Colored pencils are, by far, the most useful art supply you will ever purchase. In my opinion, the only colored pencils you need are Prismacolor Premier Colored Pencils. Whether you're using them to add small details or a full illustration, they will never disappoint you. These have a very smooth application on paper and can take details to a whole new level. 
4. Kneaded Erasers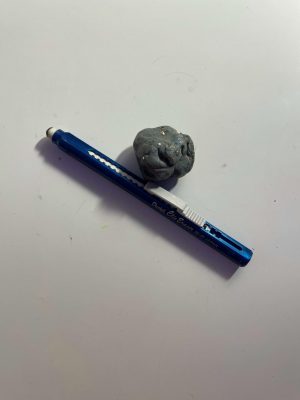 When experimenting with colored pencils, graphite pencils, and/or any other pencil material, you will need an efficient eraser. To erase finer details, kneaded erasers are the perfect option. You can find these in any art supply store in your area for an affordable price. 
5. Pencil Sharpener
A lot of people who explore with any type of pencil product put money into pencil sharpeners. Pencil sharpeners can be very helpful when working on art pieces. You can buy electric pencil sharpeners or handheld ones, although electric sharpeners can get expensive.
They have great options like Bostitch Super Pro Glow Electric Pencil Sharpener, or X-Acto Mighty Mite Electric Pencil Sharpener. Some cheap handheld pencil sharpeners are Prismacolor Pencil Sharpener, or  Staedtler Pencil Grip Two-Hole Pencil Sharpener. Whether you choose an electric or handheld sharpener, it is a clever purchase.
6. Markers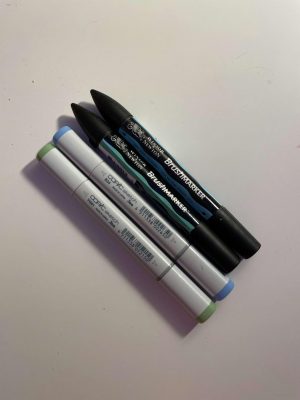 One of the most basic, but most useful resources are alcohol based markers. They can be used with other products as well as be used by themselves. Some widely known brands are Copic and Winsor & Newton. These two brands have the smoothest application and great dual-tip access. 
7. Paint
To achieve a beginner-level painting skill, you will most obviously need some paint. Any acrylic paint will do (I like Winsor & Newton the best), although this paint is not idealistic for blending. If you want a blend effect within your art piece, you should purchase oil paint. However, with oil, you will need to make additional purchases such as oil paint like paint thinner and linseed stand oil.
8. Watercolor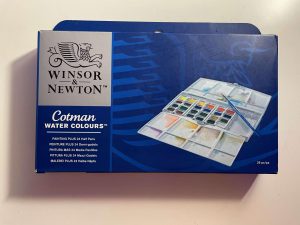 If you like a more subtle and blendable paint, you might want to invest into watercolor. Watercolor paint is the easiest paint to control… making it one of the most uncomplicated materials. If you plan on looking into watercolor, I suggest the brand Winsor & Newton.
9. Paint Brushes
What goes hand in hand with paint? Paint brushes! If you like paint mediums, you will have to accompany your paint with some brushes. There are different brushes for different paints. These brushes include acrylic paint, oil paint, and watercolor brushes.
A lot of brands you purchase your paint from have brushes to go with the paint. There are sets of brushes you can purchase, as well. I recommend Winsor & Newton Cotman Watercolor Brushes for watercolor, Royal Langnickel Majestic Brushes and Sets for acrylic, and Robert Simmons Expression Brushes and Set for oils. 
10. Plastic Paint Palette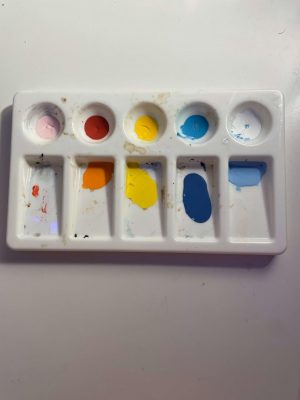 A helpful art supply for painting is a paint palette. You can use anything as a paint palette, even a paper plate from home.  Although, having an actual plastic palette can be especially handy. They help you hold a spot for each paint color you need. It also can give you an advantage when it comes to blending paints together.
Paint palettes like the Plastic 10-Well Paint Tray, or E-Z Clean Palettes are some good options if you want to purchase one.