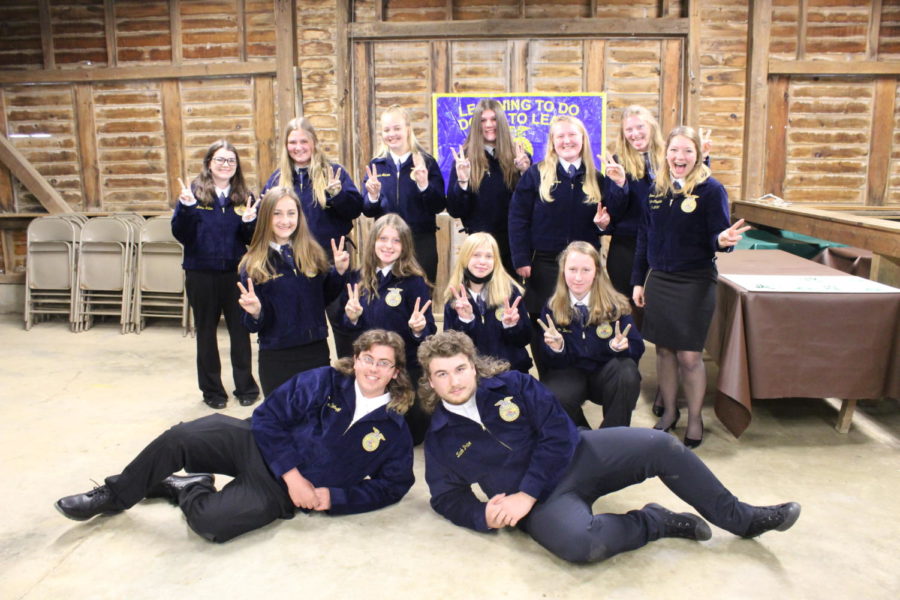 On May 16, the members of our chapter of the Future Farmers of America (FFA) had a picnic to celebrate the end of this difficult but exciting year and to honor the many hardworking members of the organization.
The first award was the Greenhand Degree–which honors students who have demonstrated a strong understanding of the history and the purpose of FFA. The student must also have developed a plan for their Supervised Agricultural Experience (SAE). The earned this degree were: Savannah Densmore, Hailey Marslett, Katie McFatridge, Ashlin Miller, Bailey Miller, and Lydia Miller.
The members who earned the next level of Chapter Degree were:  Trinity Brunicke, Marslett, McFatridge, Lydia Miller, and Jenna Morris.
FFA Teacher Hannah Harris bestowed the The Agriculture Academic Award to students in each grade level. The Outstanding Freshman was Densmore, Outstanding Sophomore was Ashlin Miller and Marslett, Outstanding Junior was Lydia Miller, and Outstanding Senior was Emma Densmore.
The next award Harris gave out was the Outstanding Fundraising Award. McFatridge won this award for her exemplary participation in fundraising activities.
The next award is one that honors an employee who has exhibited pride in the FFA program through continued participation and help with the program. The FFA program honored secretary Lori Kunkle with the Pride Award the Pride Award  for her continuous support of the FFA.
The last award Harris presented was the FFA Honorary Award. The recipient was Kerry McFatridge, awarded for his support and involvement in the program.
The final awards were designed as a special thank you and recognition of the officers this year. Those honored were: Brunicke, Densmore, Marslett and Lydia Miller. This was followed by recognizing and congratulating those who earned positions next year:
President: Lydia Miller
Vice President: Marslett
Secretary: Ashlin Miller
Treasurer: Savannah Densmore
Reporter: Morris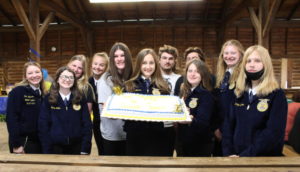 The program also wanted to include a special thank you to their continued sponsors and supporters in the community, which include:  Maize Quest, Blevins Berries, Bonkeys, Morris Family Farm, Pioneer Seed, ShopRite, The Mill, Harry C. Dehoff Farms, the Marburger family, the Price family, and the Dehoff.
And finally a special thanks to Pennsylvania FFA State Chaplin Emma Musser for coming out to support and share a passionate speech about leaving your mark.
Brunicke said, "With the crazy year we had, it was great to be able to finish it off with a banquet. Lots of planning, time, and detail went into making it one of the best ones yet."