Alumni Levi Tart First Guest Speaker of Many in Real World Senior Classes
On October 6 Alumni Levi Tart returned to be a guest speaker in the Real World English and consumer math classrooms.
Tart is a welder on an oil rig in Louisiana that works on the gulf of Mexico and graduated in 2021.
Students have the option to take Real World English and Consumer Math their senior year. As such, English teacher Sarah Buttiens said they are trying to have a guest speaker every Friday because they offer a different perspective on life after high school and can provide students with ideas about career choices and jobs.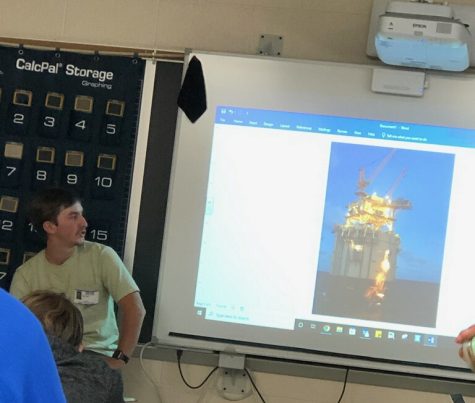 "The goal of the guest speakers is to provide students with real-life accounts who they wouldn't usually hear from," said math teacher Eric Updegrove.
Buttiens invited Tart to be the first guest speaker of the year.
"I kept in touch with Levi after he graduated because he was a well-spoken student who had an interest in sharing his experiences with students," she said.
Levi loves talking about his pathway to success.
"I'm always excited to talk to people about my career path, what I do, and how I got there because it's not a very well-known trade. At least not around here," said Tart.
While he is finding success now, high school was a struggle.
"Levi had difficulty seeing the immediate value in his senior year. He had a bad case of senioritis and will be the first one to tell you it was a struggle to get through the year–not because of his lack of abilities, just didn't have that motivation," said Buttiens.
When Tart came and talked to the students many of them found it very interesting.
"Levi's presentation was very nice and honestly fun to listen to. For me to have him twice in a day and learn more than just some classes was nice and very eye-opening," said bowling team member Sierra Archey.
A commonly said surprise from the students was how he has a good job even without a college degree.
Senior Jason Hertzog was particularly impressed that you could get a job without a college degree and still six figures.
"Levi Tart let me think more about my future and my career decisions. He told me that not everyone knows what to do after high school and some do. It's okay not to know. He told me to 'put my head down and grind'," said senior Aiden Arnold.
The students found his speech interesting, but the teachers seemed to find just as much interest in what Tart had to say.
"I think Levi has a very interesting job–one that most students may not know about. So, I was most excited for him to share pictures of the oil rig he welds on and to talk to students about his journey in finding this career choice. Like many professionals, Levi didn't graduate with the plan to be an oil rig welder. He happened upon it through networking and just 'trying it out." said Buttiens.
While his job is interesting, it isn't for everyone. Tart talked about how there are many sacrifices and might not be worth the pay for some, though.
"It takes a lot of time and energy. And, honestly, it's not the career a lot of people want because of the way scheduling is. Yea, sure, the pay is great, but you're away from home, from family and friends for at least one month at a time, food really isn't great, and you have to look at the same 15 guys all month long," said Tart.
Students were overall interested and focused on the presentation. Updegrove spoke about how his students interested in welding had a lot of questions for him.
Buttiens echoed the fact that the students were engaged and interested the entire time.
"I think we should do them frequently because they give us a good insight into life after high school," student section leader Lucas Nagel.
Teachers believe it's a great idea to include guest speakers here.
"I hope they recognize this isn't some smoke show, that there are great career paths and interesting jobs they've never heard about out there. I think students hear parents and teachers talking about 'life after high school, but what do we know, you know? I think hearing an Alumni–someone they knew in school–talk about his passions is a motivational experience," said Buttiens.