New Long Term Substitute Mrs. Rosenzweig
Long-term science substitute (LTS) Lindsey Rosenzweig actually began her college journey as a biology major, but Covid made her decide to get her teaching certificate.
She earned a Bachelor's degree in Biology from Penn State University but went back to school to get her teaching certificate from York College. She did her student teaching at Red Lion High School.
Currently, she teaches five sections of integrated science in her first full-time position since she graduated.
While her area of expertise is in biology, the environment, and living things, the integrated science class has been a bit of a challenge, because it also includes chemistry, physics, and space. 
"So far space has been the most difficult because that is the subject I am least familiar with," Rosenzweig said.
Being a new teacher brings with it many challenges. Some difficult parts for her have been remembering everyone's name. At this point, she knows her students but beyond that has found it tricky to remember other teachers and students. 
Another thing that was difficult for Rosenzweig was when she lost her voice, but according to veteran teachers, this is not uncommon. 
Of course, there are many things that will be hard starting as a teacher but some things have been easier. Rosenzweig said this school was, "much smaller and easier to get to know people."
Some of her favorite parts of the job so far are being able to share her knowledge and love of science with her students. "I also enjoy meeting and forming new relationships with fellow staff members and students," she said.
The end of her LTS position is in January, but she would love to continue it if she had the chance.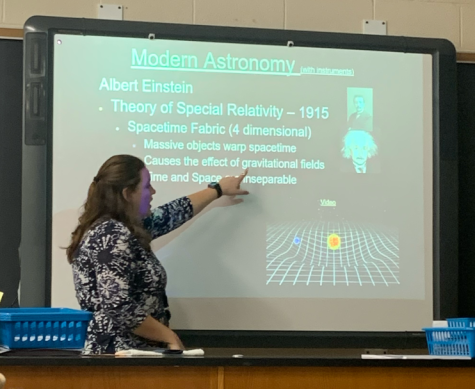 Outside of school she enjoys spending time with her family. In the spring and summer, she likes to garden, swim, coach softball, and go to the beach. 
Being a Penn State fan, fall means football! 
While she likes sports and used to coach softball, she isn't ready to commit to a coaching position at the school. As an LTS, she is able to become a coach or advisor but right now she is too busy planning lessons. 
In the summer she interviewed with Dr. Venne and Dr. Sanders like a normal one-on-one interview. Then came back for another interview and had to teach a lesson and was evaluated and hired based on that.