Julia Scarborough: Capturing Memories and Impacting Lives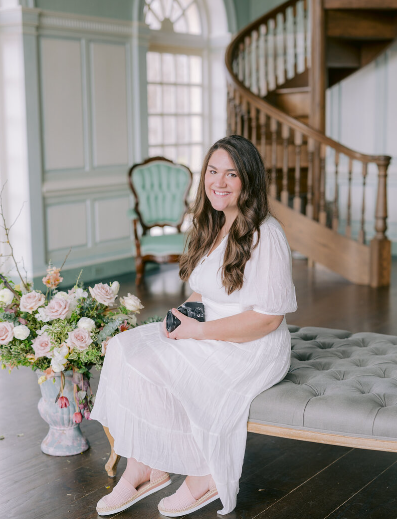 Not only is Julia Scarborough a 2014 alumni, but she is now a successful entrepreneur and a second-grade teacher. 
Scarborough was born in Rosedale, Maryland, and grew up in Fawn Grove with her parents Joe and Sheila D'Arrigo, older brother Joey D'Arrigo, and older sister Brooke D'Arrigo.
Scarborough participated in many extracurricular activities throughout her childhood. The support from her parents was a driving force in her life. 
The most important part of her childhood was "…the way in which a faith in Jesus was the foundation for our family," Julia Scarborough said.
Throughout high school, Julia Scarborough played softball and field hockey. She loved the bus rides to and from games, but most of all, she loved competing alongside her best friend Sara Driggers.
Fast forward to 2017, Julia Scarborough graduated from Lancaster Bible College (LBC) where she played softball and grew her relationship with God. 
After college, Julia Scarborough reconnected with an old high school friend Patrick Scarborough. 
The two first met in fifth grade but didn't become friends until later in high school. After high school, they both went their separate ways.
In August 2017, they both started attending a Bible study for young adults. After rekindling their friendship, they started dating in February 2017 and got married in September 2018.
Not only did Julia Scarborough get married in 2018, but she also started her own photography business, Julia Scarborough Photography. 
As she was starting up her business, she also decided to pursue teaching on the side in order to add a second source of income.
In 2021, Julia Scarborough became a second grade teacher in Solanco School District after graduating with a teaching certificate from Millersville University.
"Being a teacher and photographer leaves little room for other activities," she said. 
Both teaching and photography are big time and planning commitments. 
Although her schedule can sometimes be overwhelming, Julia Scarborough said it brings "joy and fulfillment." 
Julia Scarborough teaches Monday through Friday and then will shoot weddings on Saturday and Sunday. 
"As a photographer, my goal is to freeze little moments of time and preserve memories for a lifetime," she said. 
Last year, she had 55 photography event; 25 of them were weddings
Scarborough takes great pride in capturing each couples' special day.
Not only does she seize every opportunity in the wedding world, but in her second-grade classroom as well. 
"I have the privilege to provide a place of peace for them each day, and speak life over their lives," Julia Scarborough said.
Julia Scarborough finds it very special to spend 180 days, seven hours a day, with her students because she knows she has the power to impact them in a great way. 
"Teaching isn't a job, but a calling. It is truly a mission field," said Julia Scarborough. 
The Scarboroughs have exciting goals for the future. 
Most importantly, they want "to glorify God with our lives and point others to the transforming power of Jesus."
Julia Scarborough would also like to have several children and purchase a home.
As far as her career, she would like to go into the luxury wedding market. This would give her the opportunity to take on fewer weddings (as she can focus more on single wedding events) and provide each couple with a sensational experience without sacrificing income.
Julia Scarborough has an incredible drive and work ethic. It all started in her home at a young age and continued as she went through high school and then on to college. 
Leave a Comment