Alumni Anna Colvin Invests Back Into the Community
January 17, 2023
2005 alumni Anna Colvin has immersed herself back into the field hockey program she was once a part of and is loving every second. Now a coach of 14 years, Colvin's path to coaching is not what one would typically expect.
Colvin was born and raised in New Freedom, Pennsylvania, just on the outskirts of the district. She grew up with two very active parents who helped inspire her love for sports.
Contrary to popular belief, field hockey wasn't always her main sport.
"At the age of 10, I started playing on my first club team for soccer and I was completely hooked. From that point on, I lived and breathed soccer and my life revolved around it," she said.
Even while playing on three club soccer teams, she made honorable strides within her school soccer program. In 2004, her team won a York-Adams Interscholastic Athletic Association (YAIAA) championship along with Colvin herself receiving All Star Team honors both that year and the following.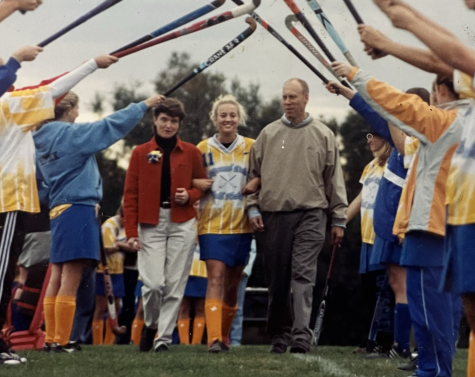 Colvin always viewed field hockey as her fun sport, but that didn't stop her from working hard every day. She made countless memories in her three years playing and even made the YAIAA All Star Team in 2005. 
"My biggest memory of field hockey in high school was how much fun I had. My coach, Karen Eaches, knew how to push us hard but also taught us the importance of building relationships with one another," she said.
It wasn't until she became burned out from soccer that she considered playing field hockey at the collegiate level. After touring West Chester University, she fell in love and decided to take a chance and reach out to their soccer and field hockey coaches. 
After denial from the soccer program, field hockey seemed like a longshot.
"I thought that there was no way. But then in June of 2005, she (the field hockey coach) reached out and said a spot opened up on her team. I was simultaneously incredibly nervous and excited," she said. 
The Division I collegiate field hockey atmosphere was tough on Colvin and certainly an adjustment.
"That Division I level of practice and play was intense. We had preseason practices three times a day, once classes began, morning workouts then afternoon practice, add film in there once games started," she added. 
Although she had to figure out a balance between friends, classes, and field hockey, Colvin recalls her time at West Chester fondly. 
"I was given the chance to play against some of the best players in the country when we played UNC, Richmond, Penn State, University of Massachusetts, St. Louis, Temple, St. Joseph's, Villanova, etc.," she said.
Coming out of college, Colvin's primary focus was on securing a teaching position, not becoming a coach. She accepted a job teaching high school Spanish at Oxford Area School District in 2010. 
Through mutual connections with her principal, she ended up becoming involved in their field hockey program. 
Colvin coached alongside a close friend and mentor for nine years at Oxford before moving back to the area with her husband five years ago. She was excited to be a part of the school community again and start her family here.
She immediately became involved with our field hockey program and has served in roles as a volunteer coach, Junior Varsity coach, and head coach over the past five years with the team.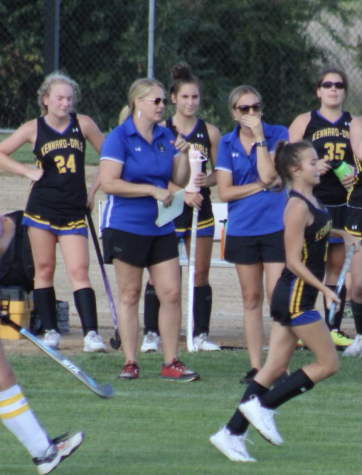 "I feel like KD really encourages their coaches to focus on ensuring their athletes are well-rounded and I really appreciate that as a coach and an alumni," she said. 
She aims to create meaningful experiences, opportunities, and lessons for all of her players.  
"I think especially watching the girls from year to year not only grow as players, but as people, it's truly the greatest thing," she said. 
Colvin has been able to form close-knit relationships with both her players and coaching staff. 
"Our success this year was a culmination of hard work, perseverance, and resilience. This group was special and I knew if we could find the right way to get them to work together we would be successful," said Colvin.
The special chemistry this year led to appearances in County and District postseason play. 
Many of her coaching philosophies have been sourced from her father who was both an avid outdoorsman and thoughtful coach. 
"I always remember him saying that a good practice should never have people standing around and waiting in lines, everyone should be working, and that's always something I carry with me to this day when planning my own practices," she said. 
As for Colvin's current life outside of coaching, she is a stay at home mom to her two children. She is also a part of a weekly league and monthly indoor tournament team that allow her to continue expanding her knowledge of the game. 
"I spend my free time hiking, playing field hockey, doing yoga, spending time with my family, reading, cooking, and trying to find ways to give back. I have been a Fawn Grove Borough Council member for a little over three years and enjoy doing what I can to help keep this community great," said Colvin. 
Colvin's influence on her community in her high school and present adult years is quite remarkable. She continues to strive to make an impact on her athletes today and hopefully for many years to come.