Fourth Annual Lip Sync Battle
May 14, 2018
Aevidum hosted their fourth annual lip sync battle on April 27 with a number of different performances by varying teachers staff members throughout the school.
In order for the lip sync battle to have taken place, students had to donate at least 1,000 non-perishable or personal hygiene products. This year, students raised a total of 2,636 items for the food pantry located in room 11. The pantry directly helps families in need within our district.
The emcee was math teacher Eric Updegrove, and senior Susan Kelly assisted him as the student emcee this year.
"Being an [emcee] with Mr. Updegrove was amazing. Being able to have fun and dance around on a stage in front of an awesome school was a dream come true. Also, a huge shout-out to Aevidum for making it happen and for getting the school so involved with the community," said Kelly.
The three judges this year were social studies teacher Christopher Grube, English teacher Jenna Ritter, and Principal Heather Venne.
Students in the Aevidum club decided on a few individuals who they would like to see judge the competition, and all three of the first picks agreed to do it.
The emcee's opened the show , and immediately following this was the business department's performance, with business teacher's Rachel Bontoyan, Mike Snyder, and Mike Twigg, participating. They performed Bon Jovi's "Living on a Prayer".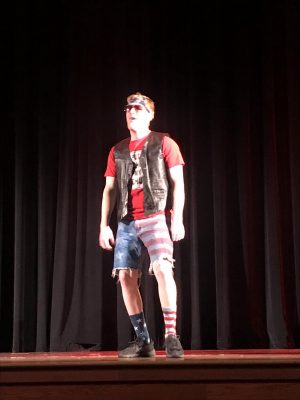 After this, social studies teacher Scott Vojcsik and school social worker Kara Vojcsik performed a father-daughter duet that featured a mash-up of three songs. Their final song "We Are the Champions" featured teachers who are Eagles fans parading around the stage in their Eagles attire.
Up next was art teacher Wade Walton, notably performing a song about Tacos, accompanied by two dancing tacos who played keyboard guitars.
English teacher Grant Leonard and shop teacher James Waltermyer followed with a rendition of Shakira's "Hips Don't Lie". Accordingly, Waltermyer wore a dress and wig as part of his role.
"He's a beautiful man who absolutely captured our hearts with his dancing–truly a masterful experience that has enhanced my life forever. The song and dance I can say changed my life for the better encouraging myself to be a better human being," said senior Kyle Gladstone.
Shortly after this, English teacher's Rachel Appleby and Sarah Buttiens put on their performance. It was a "riff off" where they performed select songs from various genres including country, rap, and 90's alternative. They completed their performance with "I Love Rock'n Roll" together.
Following this, a women's group consisting of: gym teacher Amy Fisher, emotional support teacher Courtney Irwin, assistant athletic director Barb Peterson, nurse June Stratmeyer, chemistry teacher Beverly Whiteford, and Kara Vojcsik again. They performed "We're All In This Together", which featured students from the audience including basketball players Adam Freese, Lily Dressel, and Donnell Williams.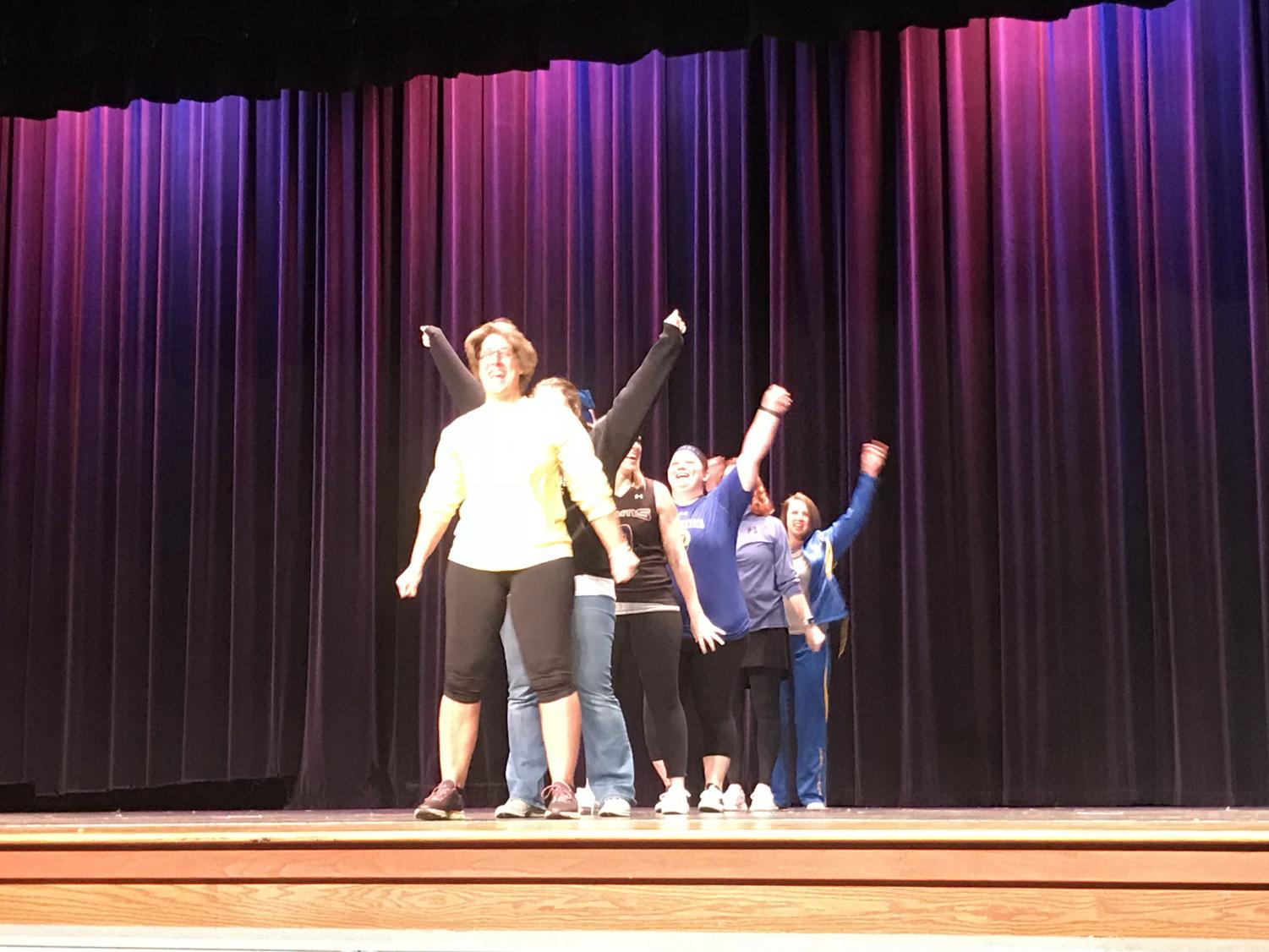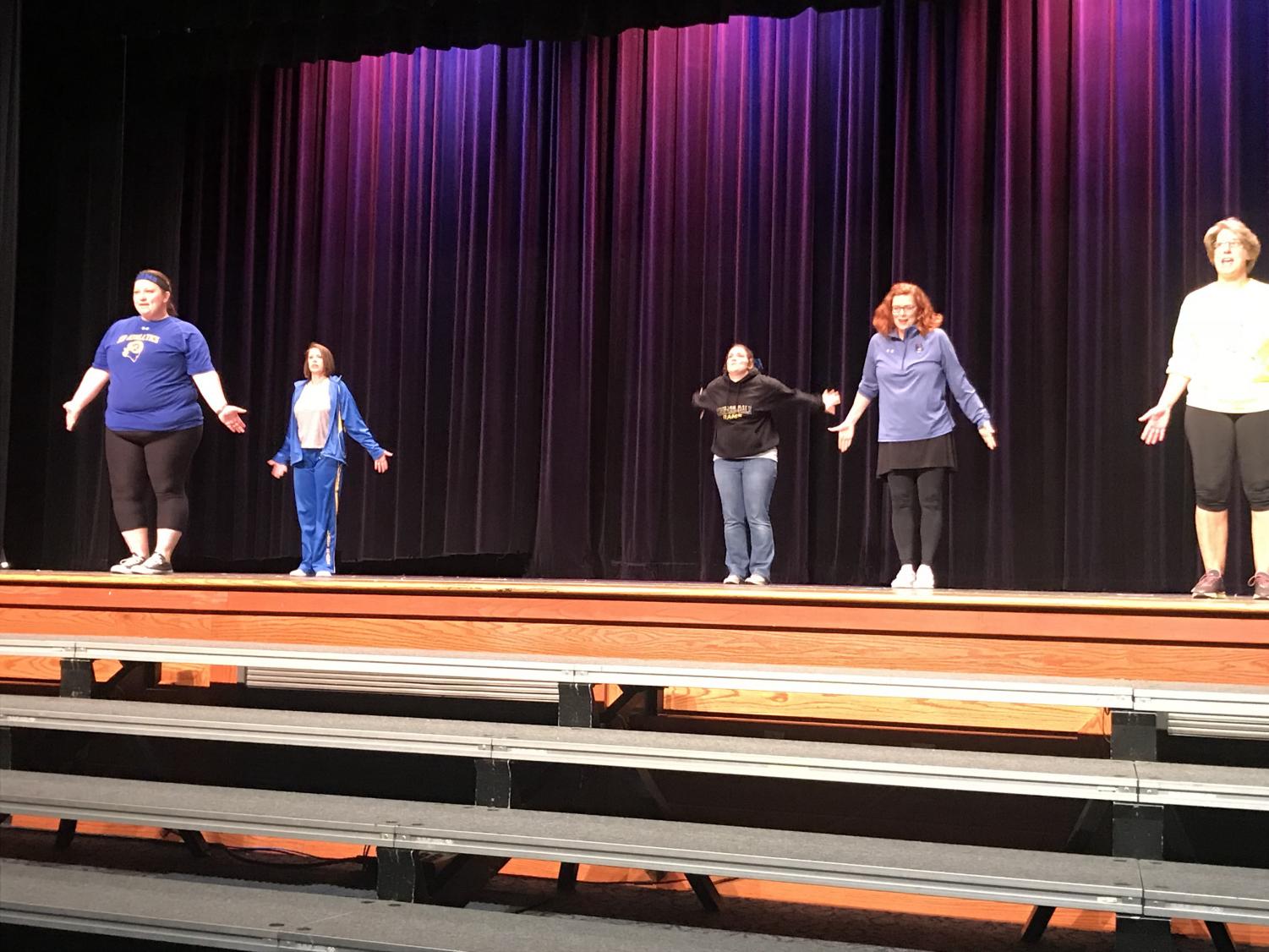 The next performance was a couples lip sync, with social studies teacher Marcie Barr and her husband band director Matthew Barr, Spanish teacher Karen Snyder and her husband business teacher Mike Snyder, and also including social studies teacher Andrea Walton, and her husband art teacher Wade Walton.
They performed a variety of songs in a lot of genres; this group performed seven songs in total.
Last, but not least, was the physical education department, the reigning champs from the year before, which includes:  Andrew Loucks, Joseph Hasson, Laura Gilkey, and Fisher.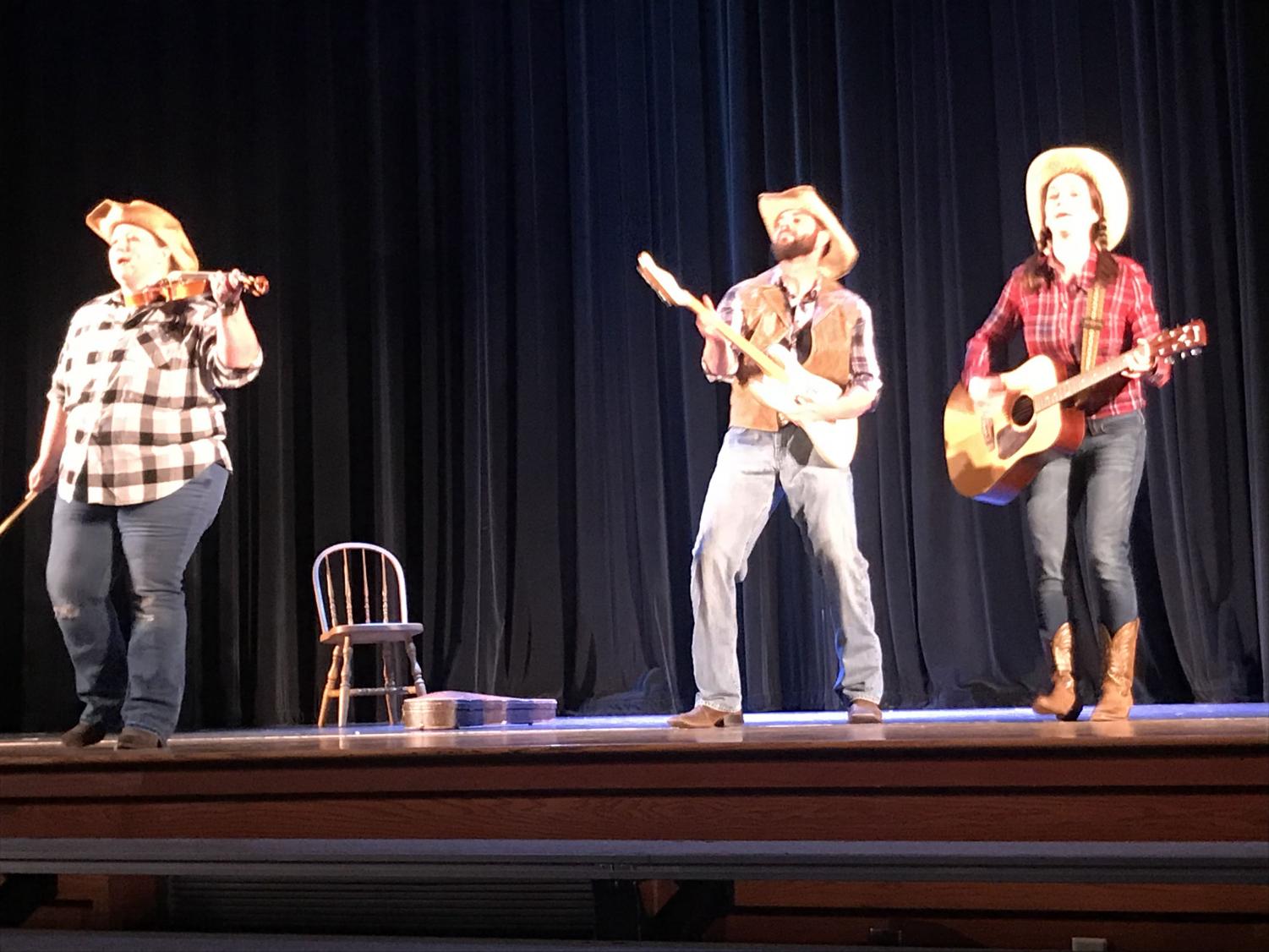 This year, judges recorded their scores on paper, rating performances using various categories, such as: appearance, lip syncing abilities, crowd response, performance. Judges could rate each category on a 1-5 scale. In years past, judges held up scores and explained them to the audience.
The physical education department took first place again in this year's contest, with their performance of "The Devil Went Down to Georgia."
Not all students agree with this vote, though.
"I feel I've been robbed; I feel we should have won, because we clearly had more creativity and more audience response, and we were more in sync, and the gym department was missing a member–Hefle. Also, Mrs. Ritter wasn't allowed to compete last year because she won the previous year," saud National Art Honor Society member Jack Gaul.
Senior Kyle Raymond agreed: "The gym department should not have won just because they chose 'The Devil Went Down to Georgia'; Instead, Wade Walton should have won due to the creativity in his song, the variety, and the fact that he made giant tacos."
Kelly and Updegrove awarded second place to Walton and his dancing tacos; third place went to Appleby and Buttiens.
"His was more fun and more exciting than the gym teachers, so Mr. Walton should have won," senior John Sutton argued.
Students have some suggestions regarding a way to settle the student frustrations over whom the winner should be.
"I think the students should be allowed to vote; since the students are the ones who raised all the cans, they should be the ones allowed to vote for who wins," track member Jessica Ollis said.
The emcees also recognized Fisher as a standout participant for being involved in three different acts this year.
Overall, the students seemed to enjoy the show, but some had some constructive criticism.
"I think it was too short and it felt like it was rushed. It went super fast, but it was really fun," said Prom Queen Hayden Grimes.
The original idea to have a lip sync battle occured due it's popularity: "We had this idea a couple years ago when the popularity [of a lip sync contest] really started on television, and we thought it would be a great way to reward the students for doing something for the district" said Aevidum advisor Jennifer Adams.