New Protein Powder In The Bistro
November 2, 2018
In late September, the Athletic Department decided to offer "Earth Fed Muscle Protein Powder" in the bistro.
This powder comes in single-serve packages that you can mix with water or milk, and it costs two dollars.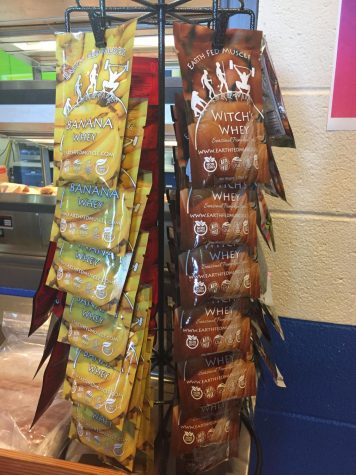 The product is intended originally for power lifters, but anyone looking for a form of protein prior to or after workouts now has the option to purchase it at any time.
The Secretary of the Athletic Department, Ian Lange stated, "Anyone wanting to try and as Mr. McChalicher would say 'Get some gains!' is more than welcome to try this product."
Lange's role in the process of getting the product is making sure the inventory is full, maintaining stock, and reordering the product.
The product is received straight from the distributors of the Earth Fed Muscle company.
According to Athletic Director Gary McChalicher, because it is locally sourced in Reading, "We can also obtain and sell it at cost, other options would be much more expensive per serving."
There are several different flavors you can buy in the bistro, such as: banana, chocolate, vanilla and pumpkin spice.
Each packet is one serving size and is non-genetically modified organism (GMO), hormone free, soy, and gluten free.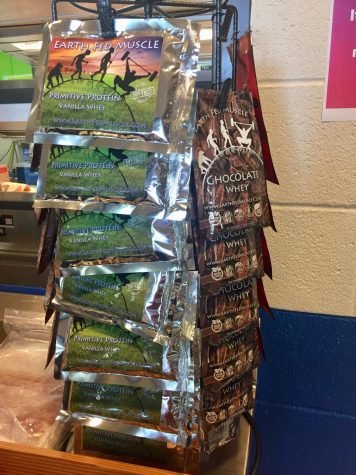 This protein powder is a great way to help build muscles in a non-harmful way, and over time, it can allow one to be able to work out harder and longer.
If one decides to buy this powder, it can be a supplement to a healthy diet. It quickly digests into amino acids in readiness to be used following a workout, strengthening the muscles.
These protein powders also help you stay fuller for a longer amount of time and increase the ability of your muscle to repair and build new fibers quickly in order to increase body mass.

If this product ends up being a big success in the school, it could lead into a line of several other products offered at the bistro.
Lange stated that selling protein powder was very beneficial, " I believe like most things in life, if used correctly, it can be a great benefit to most. It's an all natural product, you can't go wrong with that."
If any student thinks that the product benefits them to their satisfaction, they also have the ability to go online to the Muscle Fed Protein website and order several other protein supplements with a variety of different flavors.
If anyone has any further questions Lange commented that anyone can reach out to him and he will answer to the best of his ability.