New Teacher Faces: Alumni Hannah Harris
November 4, 2020
As a new, uncertain school year arrives there is a new, but familiar face in the agriculture department.  Hannah Harris is an alumni that is currently teaching FFA, Horticulture, Animal care and Management, Supervised Agriculture Experience, and Advanced Equine Science.
Before coming back, she attended Penn State University, graduating in 2011.  She taught five years at a previous school, teaching ten different classes before finally deciding to come back to a very familiar school.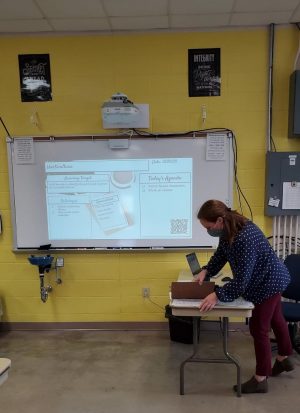 When asked why she came back she said, "I love my hometown!  I wanted to be closer to my family who still live in Fawn Grove."
Her love for agriculture actually started here; while here she took a class called Introduction to Agriculture with then FFA teacher Sara Sparks.  That class inspired her to get involved with agriculture and she loved it.  Wanting to give students the opportunity to grow their leadership, personal growth, and find careers in agriculture were also of big inspiration to her.
"I did not grow up on a farm but found a passion for this line of work," she said.
Harris describes her teaching style as "hands-on", which means many experiments and labs.  She also likes to have many guest speakers in her classroom as well.  Real-world application to the material that she covers is extremely important to her.
When describing herself she said she was laid back and cares about her students and their future success.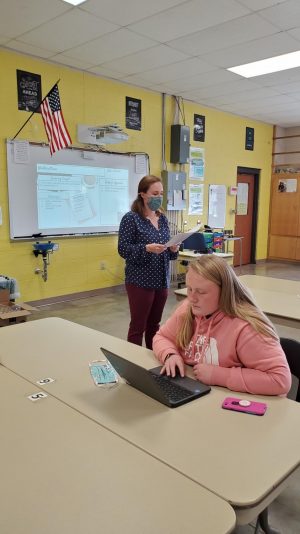 Junior Lydia Miller said, "I like her teaching style because she really engages us in class."
Really engaging the student seems to have opened doors into her students getting to know her personality as well.
Sophomore Katie Mcfatridge said, "Mrs. Harris is a good teacher and cares about each and every one of her students."
Like many vetaran teachers, Harris finds teaching through a pandemic challenging. Teaching hybrid and virtual has been her largest struggle.  Since her classes are very hands-on, she finds it difficult with the online students.
When she was asked how this experience will improve her as a teacher. Harris said, "I am much more flexible as a teacher!  I will also appreciate the 'normal' year even more."
In regards to how she would like to see the agriculture program grow she wants students to get more involved.  She wants to let students know agriculture isn't just for farmers.
"There is so much to learn about agriculture and FFA," said Harris.
When she's not teaching she works on a small horse farm a few days a week.  She plays the drums, enjoys spending time with her family and friends.
"I am a boss at Mario Kart," she bragged.