Mini Canvas Sale
March 9, 2021
National Art Honor Society (NAHS) is hosting its annual mini canvas auction during the week of March 8-12.
Displayed in the lobby of the high school are close to 70 canvases. These canvases are four inches by four inches and come with the mini easel for display purposes.
Below each canvas each is a description of the piece and the artists' name. Additionally, there is a paper for silent bidding to go with each canvas.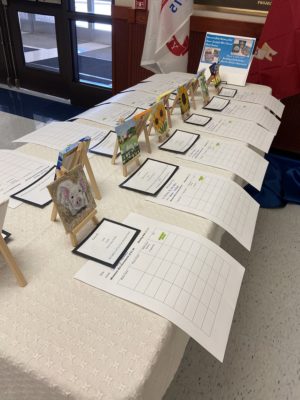 Each canvas starts at $10, and there is a $1 minimum bid increment–but most individuals are bidding in increments of five, hoisting some canvases from $10 to $15 in one bid.
Due to Covid restrictions, only staff and students are permitted in the building to bid, but community  members can see each canvas through this slideshow the NAHS members made.
Community is also permitted to bid, but they must e-mail NAHS advisor Erin Bastian with the canvas number they are interested in and their bid. Her e-mail is: [email protected]
All proceeds from this auction go to South Eastern School District's Dollars for Scholars program.