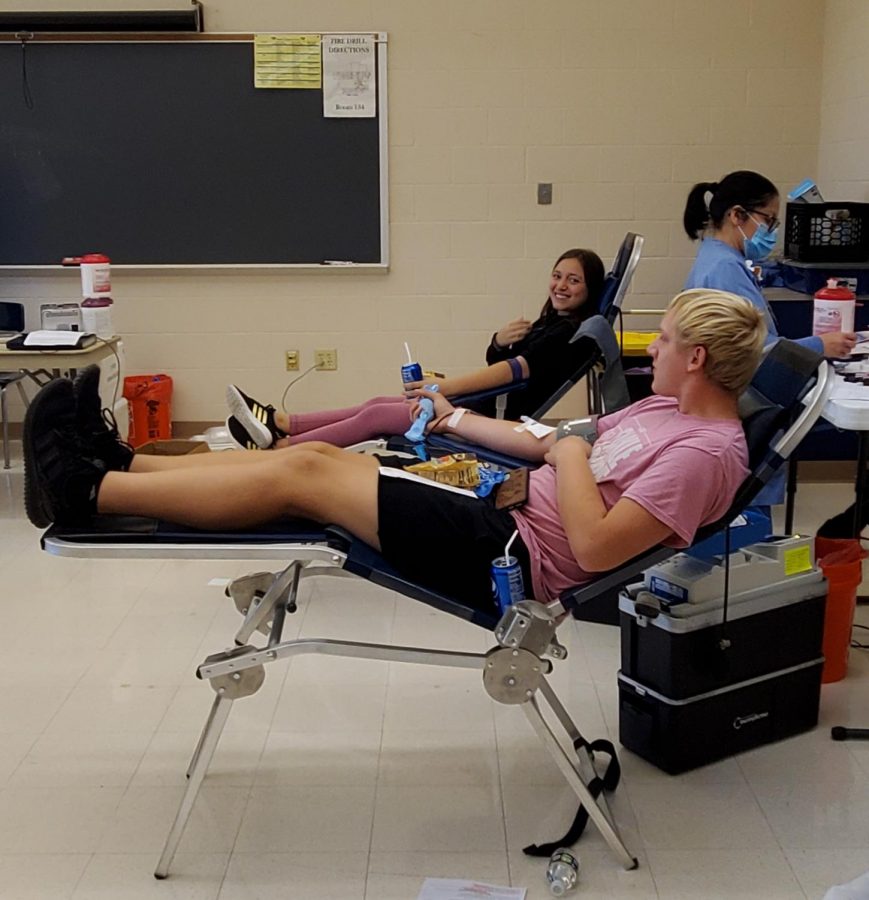 Biannual Blood Drive Had Initial Low Interest
November 16, 2021
On November 10, students and staff participated in the biannual blood drive to support the central Pennsylvania Blood Bank. 
There are a few requirements to donate blood. Students must be 16 and get a permission form with parent's consent. They also must weigh a minimum of 110 pounds.
If students or faculty are interested, they can sign up outside the nurse's office, where students can pick up permission slips and information about donating blood.
This year, there was a record low interest in participating initially. The nurses commented they were afraid they would have to cancel it all together. But, thanks to teachers for talking to students in classrooms, the event not only happened but with the same a mount of students as in past years participating.
"Donating blood can be lifesaving for a person who has had a traumatic injury or a life-threatening illness," said school nurse Julie Beaver.
On the day of the event, Central Pennsylvania Blood-bank will run the donations in the room between the nurse's office and media center.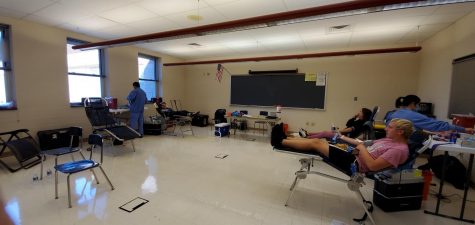 This is different from previous years,where students waited in the cafeteria lobby to donate either in the gym or in the Central Pennsylvania Blood-bank bus.
Students must have their identification (ID) and signed permission slip on the day of donation.
The Central PA Blood staff will be wearing masks, but if a student is mask exempt they do not have to wear one while donating, licensed practical nurse (LPN) Melissa "Missy" Hostler said. 
Typically, between 35-75 students attempt to donate blood during school blood drives. 
"I would love to see 100 students [participate] one year!" said Hostler.
The amount of blood donated per year depends on how many donors are successful, but according to the American Red Cross, one person typically donates one pint of blood. 
Last year students and staff donated 17 pints, which could save about 51 lives.
As of November 4, only 12 students and eight teachers had signed up. Nurses are actively trying to encourage more students to sign up.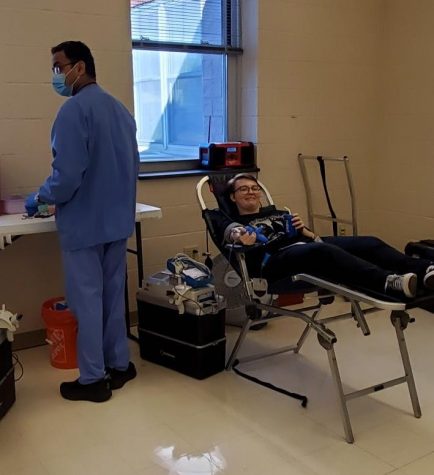 "I think people should volunteer because hospitals are always in need even if you're not the universal blood type,"said junior Annelise Dicara.
The nurses coordinate the blood drives a year ahead of time, and try to time them according to the fall and spring sports seasons. "We try to hold them when most of our sports aren't in season," Hostler said. 
Students who plan to donate should get at least eight hours of sleep, wear a shirt that can be raised above your elbow, eat a good breakfast, and drink a few extra glasses of water that day according to the American Red Cross.