Wrestling Hobby Becomes Professional Reality
Alumni Chris Burns graduated  in 1999 with many achievements, but it's his life post high school that is extremely interesting. Burns pursued many careers such as engineering technician, U.S marines, and even professional wrestling! 
After high school, Burns' joined the Marine Corps, serving for eight years. He said, "I figured it would give me the skills to fall back on if/when pro wrestling didn't work out."
It did, in fact, help him get into his current job, which involves testing armor packages at Aberdeen Proving Grounds in Maryland. His security clearances from the Marines most notably helped him secure this engineering technician position.
Burns is currently pursuing degrees at Harford Community College and plans to transfer to Towson University next fall. He is currently working on an Associates Degree in Business Administration and a Bachelor's degree in Business Leadership and Management. According to him, he chose these degrees because they allow for further career advancement.
He advises students to "get some sort of education, even if it's not college. There is nothing wrong with a trade school or apprenticeship; college will still be there later on." 
Burns was very involved in his high school days; he participated in the KD Traveling company, which did performances at different schools. The company also did skit about issues kids currently face. He noted that drama teacher Mrs. Travis had the most impact on him in high school.
He was also on the varsity wrestling team, and it was here he found a love of wrestling. 
In 2008, Burns began training in Baltimore to become a professional wrestler. Professional wrestling is, of course, very different from the wrestling he did in high school. He said, "High school wrestling is all about winning your individual match. Pro wrestling, while there is still a 'winner' and a 'loser' in a match; it is more about entertaining the fans in the audience and telling a story."
In order to prepare for these wrestling matches, Burns worked out regularly in order to stay in shape, and he went regularly to the training center to keep himself in "ring shape and conditioned" for wrestling in general.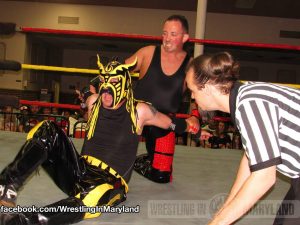 "All the wrestling shows and matches that I wrestled in were in the local independent wrestling promotions. I've wrestled in Maryland, Pennsylvania, West Virginia, Delaware, New Jersey, and New York."
In his time as a pro wrestler, Burns attained many belts. He notes: "EWA Cruiserweight Championship, EWA Tag Team Championship 2 times, EWA Maryland Championship 3 times, SWO Cruiserweight Championship 2 times (now defunct), WWWA High Impact Championship."
While he loves pro wrestling, and accrued a collection of prize belts, he noted that it has become more of a hobby over time due to life, age, and injuries–bumps, bruises, a fractured ankle in 2 places, and a herniated disc in my neck.
Leave a Comment