Helping The Community Through Work
Alumni Lauren Shoul is a powerful woman that loves to give back to the community and is able to do that through her job as a ShopRite store Director in Bel Air, Maryland.
After her 2003 high school graduation, Shoul initially went to school for Psychology, but due to mounting loans, she decided to further her career at ShopRite.

"Store directors are responsible for the day to day operations of their store, a manager is another term that can be used. I'm responsible for staffing the store, reviewing all department orders, scheduling, financials, and keeping and meeting strict budgets," she explained.
Shoul has had many accomplishments while working as a Store Director at Shoprite, such as winning the award for Top Woman in Grocery Award in 2019.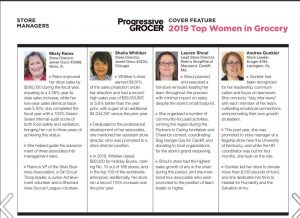 She was asked how it felt to win this award and she said, "Empowering. There really aren't many women in my profession, and I am proud to say that I am one of the Top Women in Grocery," she said. "I was nominated by the Kleins family, who are our owners. I am the only female store director they have, and they have nine locations.:
Another of her accomplishments is her ability to help her community. 
"Our company donates to many local charities. We fundraise every year for the Partners in Caring fundraiser that helps stock local food banks," she said.  
She loves her community and loves to help out and give back however she can, which is why she is so grateful for where she works. While working at ShopRite, she is able to fulfill her goals and give back to the community by providing food to those families in need.
"I've volunteered at the Maryland Foodbank numerous times. Most recently, I volunteered to help build bunk beds for children of Harford county so that they have a bed to sleep in. A group of us from ShopRite volunteered in the Bunks Across America build, and helped build 50 sets of bunk beds", said Shoul.  
While she lives in a larger area now, Shoul mentions how much she loved living in Fawn Grove and how fortunate she was to grow up here and to call this place home. She said she wouldn't want it any other way.
She talked about how she misses living in a small town because of the "Close-knit families and relationships. Living in Bel Air, MD now you lose that small-town feel. I loved growing up where everyone knew everyone, and everyone was willing to help each other in a heartbeat."
While a student here, she noted that  her favorite teachers were history teacher Cindy Bacon and business teacher Carol Long. 
Her advice to current high school students is "2020 has been a crazy year, remember to stay focused on your goals."