New Substitute Art Teacher
A recent graduate, Taylor Bemisderfer, fills in for one of the art teachers hoping to gain experience for future jobs. 
Born on October 6, she graduated from Millersville University with a Bachelor of Science in Art Education and a Bachelor of Fine Arts, where she focused on ceramics. 
Growing up, she wanted to be a baker, but after the seventh grade, she decided to become an art teacher.
Bemisderfer will be teaching in art teacher Erin Bastian's place until her official last day. "Currently, it is January 18th, but I was told that this will likely be extended to April because of Mrs. Bastian's treatment schedule."
After seeing a notice for this position, she immediately applied. Bemisderfer hopes to use this experience as a stepping-stone toward having a classroom of her own one day.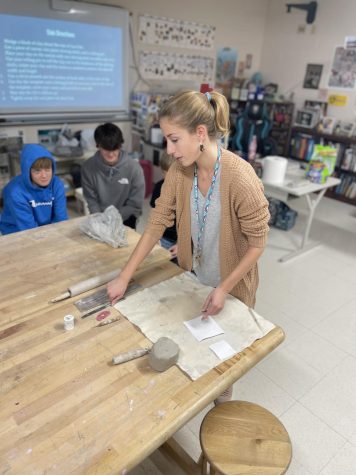 So far, she's happy with how the school year is going. Her favorite part is "Definitely the artwork that my students make. I have several who are extremely talented and I love seeing what they create," she remarked. 
She wants to help her students discover their artistic talents and prepare them for the future. "Something I hear a lot is 'oh I'm not good at art,' but most students don't realize that there are so many different forms of art like painting, drawing, printmaking, photography, and ceramics." 
Ms. Bemisderfer believes that art helps to develop creativity, decision-making, and problem-solving; she hopes to help her students with these, as they are critical skills for after high school.
In her free time, she enjoys reading, completing puzzles, wheel-throwing (which is the process of molding clay into different shapes on a potter's wheel), and spending time with her chickens and cats. 
She also enjoys the beach. Her favorite book genre is murder mystery, "I love murder mysteries, but not the cheesy kind where you can predict the ending. I like when it's a surprise and I can't guess what's going to happen next. Gillian Flynn and Tana French are really good," she explained. 
As this is her first teaching position, not including student teaching, there have been some struggles. The main struggle she has faced is lesson planning. "I don't have a ton of lessons from student teaching, so I have been planning as I go which does not leave a ton of free time," Bemisderfer explained. 
After this teaching position is over, Bemisderfer hopes to find a full-time job somewhere in York. She'd prefer to teach at a high school level.
Leave a Comment