Gearing up for Mini-THON
Hang on for a minute...we're trying to find some more stories you might like.
The Mini-THON planning committee held an assembly on January 18 in the gymnasium to raise student interest in Mini-THON and encourage students to attend the event in February.
To begin the assembly, Mini-THON members called students who volunteered prior to the assembly down to the floor to participate in four Minute to Win It games.
The first was a race in which teams had to line themselves up in alphabetical order by last name.
In the second game, students had to line themselves up by height.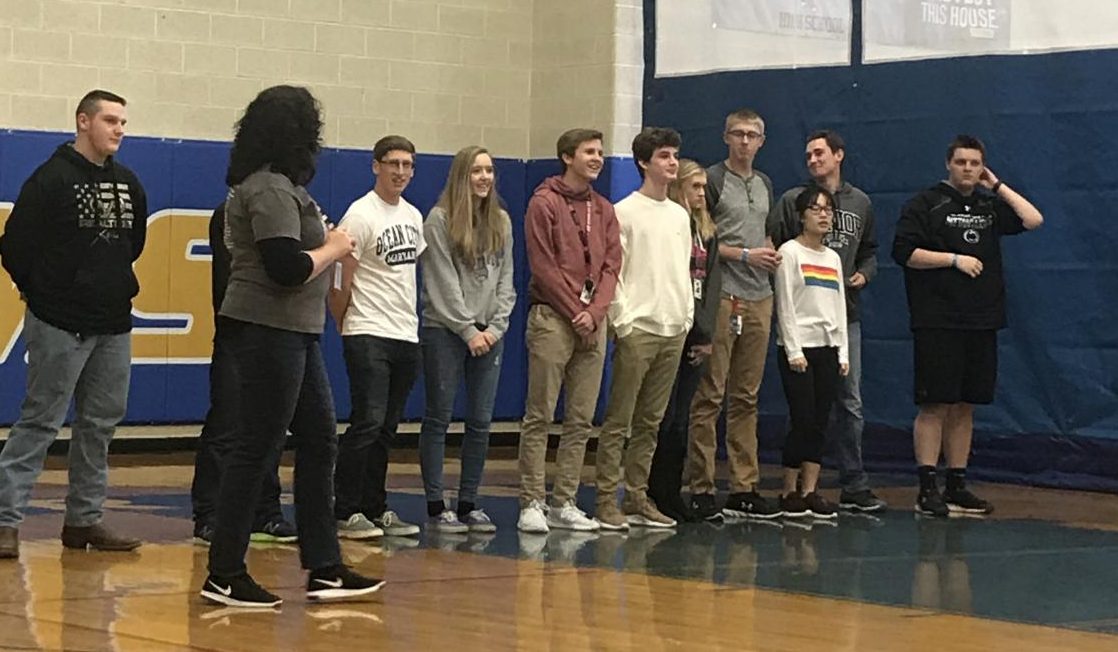 In the third, called baby elephants, students had to connect hands and lay down in a line without breaking the connection and then stand back up.
Finally, Mini-THON members gave each team mixed up letters, and the team had to arrange them in a phrase, which was "For The Kids."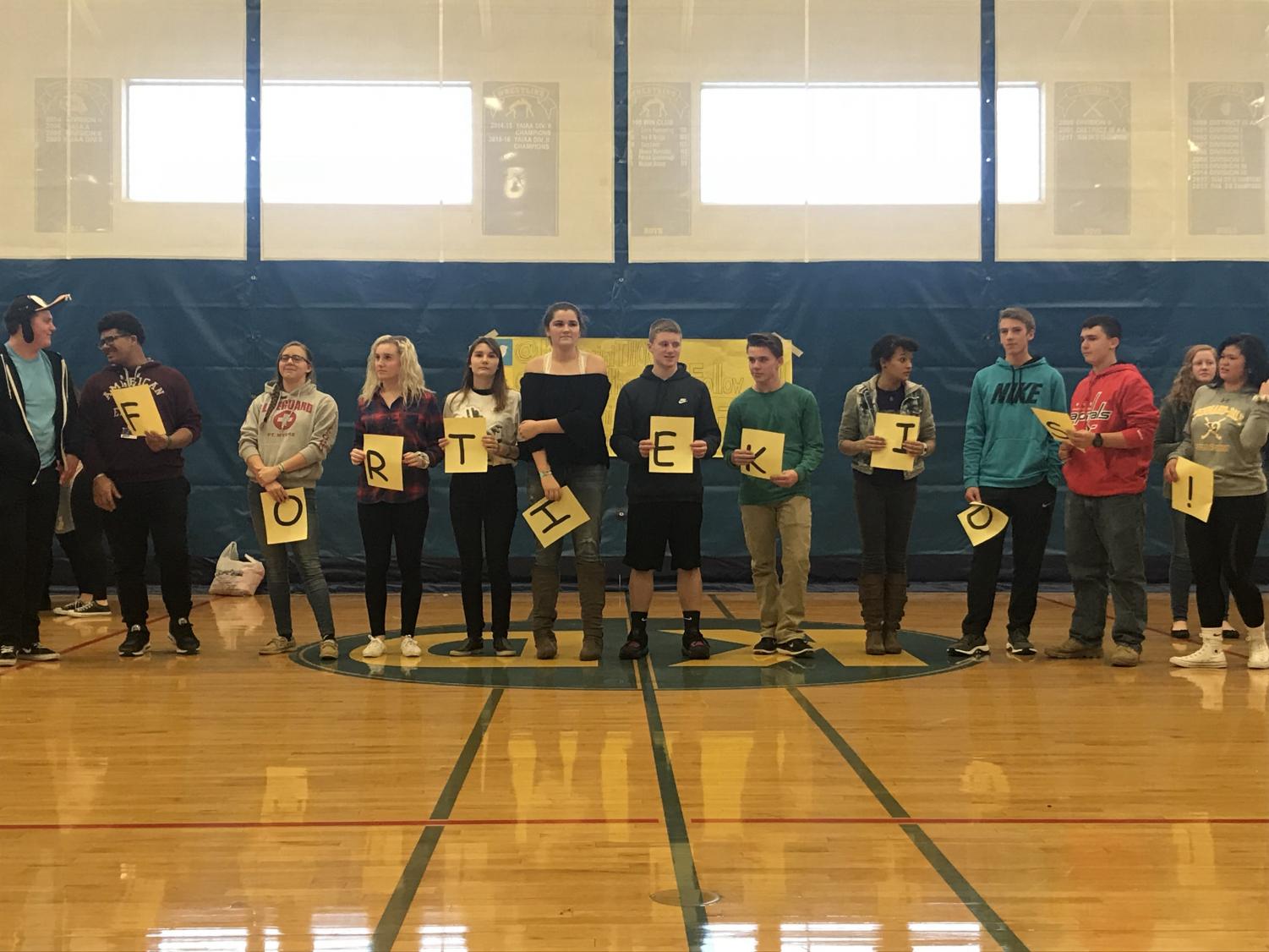 The overall winner of the Minute to Win It games was junior Cole Sinnott's team.
After those activities, two Mini-THON members reviewed some of the events planned for Mini-THON to the students, which include: an inflatable obstacle course and, new this year, a game called Kinball that has gained popularity in Canada.
Then, two different Mini-THON members briefly explained the sign up process. The cost to sign up for Mini-THON is a $35 donation to the organization The Four Diamonds fund.
Sign up forms are due on February 14, but all students who turn in their forms on or before February 2 will receive a free Mini-THON T-Shirt.
Next, Chandra Springer and her daughter Nina Thacker entered the gymnasium to tell their story about Thacker's battle with cancer and the role the Four Diamonds Fund played in assisting their family.
She shared how the Four Diamonds Fund helped with gas money, as the
 family had to go to and from York to Hershey multiple times a week. She shared that one injection cost approximately 
$3,000 and that Thacker needed many of these throughout her treatment.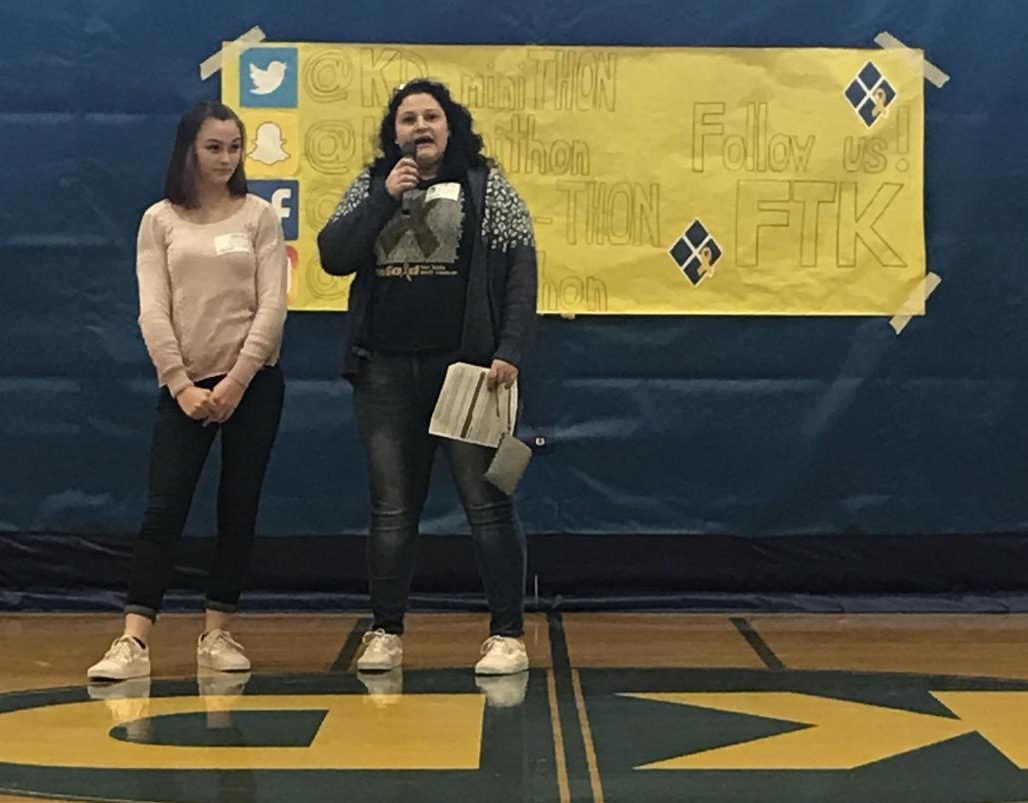 Finally, a Mini-THON member moved to the center of the gymnasium and asked everyone to turn on their phone flashlights. She then asked anyone who had a sibling or parent affected by cancer to turn their light off. Then, anyone with grandparents, aunts and uncles, cousins, etc.
She then told people to turn their lights back on if they participated in any Mini-THON fundraisers or events throughout the year.
The student members of the Mini-THON planning committee planned, scheduled, and scripted the entire assembly. Advisor Shayne Joyce's main job was to guide students and point out any flaws or areas for improvement.
"To prepare we had to plan, attend meetings, choose games, collect materials for the games, write the script, and schedule it all," said sophomore Tess Leighty.
The members of Mini-THON believe this year's assembly was effective. "I'm ready to go to Mini-THON. I feel like this will be a good year," said junior Hayley Mathews.
Mini-THON is an event in which students stay overnight at school for eight hours on February 16 to participate in games and other fun activities. To attend, students must raise or donate money for the Four Diamonds Fund.
The Four Diamonds Fund raises money to support families of children with cancer. The organization helps families with the medical bills, grocery bills, and often gas money. They also provide social workers to help the families through the emotional cost of treatment.