Future Farmers of America Meet at Annual Conference
Hang on for a minute...we're trying to find some more stories you might like.
On March 18, three students from the Future Farmers of America (FFA) club, along with their advisor Abigail Cornett and her student teacher Cheyenne Myers went to Harrisburg for the annual FFA state conference.
State conference attendees were Owen Griffith, Julia Manifold, and Ashley Miller. The state conference was held at the Sheraton, Harrisburg.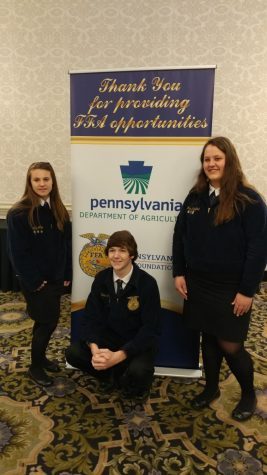 The conference theme this year was "Be the light- Initiate, Create, Illuminate."
"The content of the conference remains similar – to get upper level ag students/ffa members together to learn the parliamentary process and the process of how a bill becomes a law." says Cornett.
Students spent the first part of the day attending a number of different workshops. These workshops consisted of: Conversation Skills, Legislation 101, Tackling Parliamentary Procedure, and Game Changer.
During these workshops, all of the FFA students were organized into committees, each with a chairperson who was tasked with running the workshop.
During these workshops, according to Cornett:  "The students take real bills related to agriculture and learn the parliamentary procedure process and how a bill becomes a law during their workshops."
On the second day of the trip, students attended more workshops in the morning hours in order to place the finishing touches on their bill.
After students made the finishing touches, the FFA students from around the state were loaded onto buses and visited a number of different areas in order to complete a few community service projects.
Our FFA members went to Monroe Fire Company Station, where the firefighter gave them a number of tasks to complete. These tasks included washing the company vehicles, cleaning out the vehicle bays, sweeping the fire hall, and a number of other upkeep tasks.
By doing this, students were able to learn about portions of the fire station and the vehicles that firefighters use on a daily basis. Once students completed all of the volunteer work, they participated in a firefighter relay race.
After students finished with their volunteer work, they went to a dinner at Hoss'.
Once finished eating, the students returned to the Sheraton, where FFA held a dance and graffiti party. At this party students put on white-shirts and danced under blacklight and were allowed to write in highlighter on each others shirts.
"The dance brought me and many out of our comfort zones, but everyone had a great time, and [it] was definitely a highlight of our conference," said Manifold.
The third and final day started early when students attended a breakfast with members of the State Congress. During this time, FFA advisors encouraged students to talk with the Congressmen and women about the legislative process, as well as find out about crucial issues that the agricultural industry is facing.