Foreign Exchange Student Gives a Presentation to Foreign Language Classes
December 20, 2018
Filed under News
Hang on for a minute...we're trying to find some more stories you might like.
Foreign exchange student Viktoria Panayotova gave a presentation about her life in Bulgaria to  students on November 19. The presentation lasted for about 40 minutes during period 10.
This presentation was only for students currently enrolled in a foreign language class.
Most organizations who help foreign exchange students require the students prepare a presentation for their American schools. As a result, Panayotova started her project in the summer before she came here, because she knew school would keep her busy.
Panayotova had a hard time deciding what topics to present, but she thought foods and holidays would be more interesting than geography and history for students.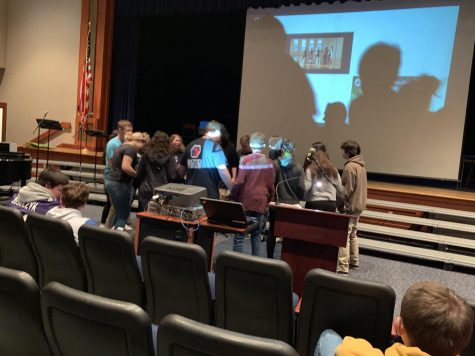 Once it was finished, she communicated with guidance to arrange when the presentation would be.
Auditorium Manager James Craley helped Panayotova set up her presentation and wrote a recommendation for a placement contest for international education.
She talked about her hometown, her culture, traditions, and history of Bulgaria.
Spanish student Avery Logue said the presentation was "very well put together, and I could tell she put a lot of work into it."
Sophomore Alyssa Cooper said the presentation was good "she's brave for doing it in front of everyone. It's cool how she's into extra-curricular activities and isn't shy about anything."
After presenting, Guidance counselor Joyce Marburger and several students told Panayotova they enjoyed her presentation.
On November 16, Panayotova also presented to the middle school students.
Panayotova said her favorite part about being in the United States (U.S.) was meeting new people in school. She said her host family is like her second family.
The thing she is going to miss the most from the U.S. is the welcome and friendliness from people at school and her host family.