Rams Varsity Bowling Competes in Snow Roller Tournament
Hang on for a minute...we're trying to find some more stories you might like.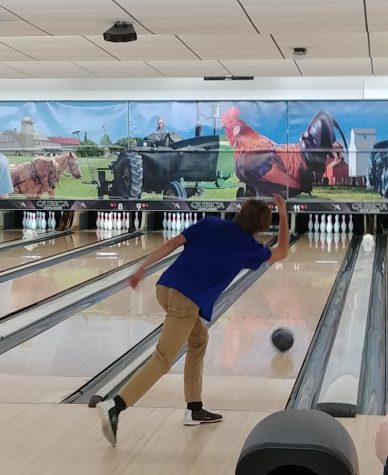 On December 15, the Rams' Varsity Bowling team participated in the Snow Roller Tournament. The Rams' total score (the three regular games and three baker games scores combined) was 2,570, placing them 34 out of the 36 teams that competed. Bowling tournaments are unlike tournaments in most other sports because you are not playing against any specific team.
With seniors Takoda Stike and Owen Griffith not playing, some of the other players had to step up. For this tournament, the rules state that each team can only have two alternates along with the usual five starters. The Rams only had six players, meaning one alternate.
"I wanted to see good shot making, spares, positive team talk, and good energy," head coach Joel Logan said on what he was hoping to see coming into the tournament.
For the first game, Logan's starting lineup was: freshman Cerenitie Decker, senior Karen Burns, junior Jordyn Bruening, senior Michael Zabkowski, and junior Colt Merrifield.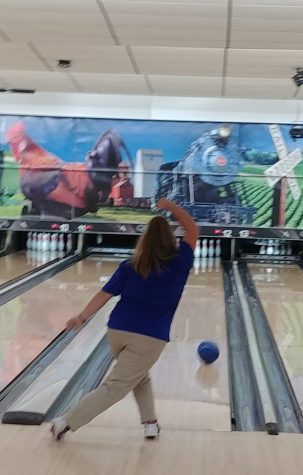 Zabkowski was the Rams' leading scorer for the first game, ending with a 168. Decker trailed Zabkowski by a mere point.  Also, Burns had a score of 128, Merrifield had a 109, and Bruening bowled for a score of 105.
The Rams' total score for the first game was 677. Logan said "That is not bad considering we were without our best player."
Logan took Bruening out after the first game and put senior Tyler Wiland in her spot. However, Bruening came back in half way through the second game for Zabkowski since he was struggling.
Merrifield came back for a strong second game after a first game that he probably was not proud of. Merrifield ended up being the best Rams bowler for the second game, bowling for a score of 165.
Also in the second game, Burns put in another good effort, posting a score of 155. Decker bowled for a score of 142, Wiland scored a 143, and Bruening finished in Zabkowski's spot with a score of 107.
The Rams' totaled for a score of 712, better than in the first game.
In the last game before the baker round, Logan's starting lineup was: Decker, Burns, Wiland, Bruening, and Merrifield.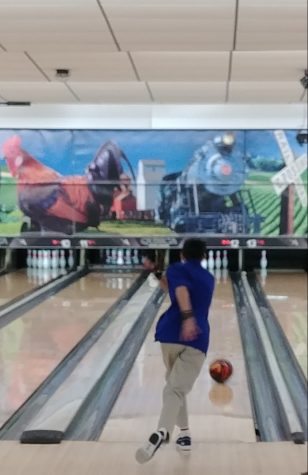 However, in the ninth frame, Zabkowski came in to finish the game for Decker. Also in the third game, Wiland had the best score for the Rams with a 168.
"Wiland was the most consistent player, Burns has improved the most, and Decker has been the best first year player," Logan said when asked who his best players of the day were.
Furthermore, Burns turned in another good score, finishing the third game with a score of 156. Merrifield bowled for a 155, Zabkowski finished Decker's game and had a score of 153, and Bruening accounted for a score of 137 in the last game before the baker round.
The Rams' third game total was their best of the day, bowling for a total of 769. Coming into this season, Logan's main point of focus was improving in each game and being better than last season, which is exactly what the Rams did with each game; they improved.
When asked what the team did well, Logan said, "Shot making was a huge improvement from last year. Most of our first shots were in the pocket."
Looking back at the tournament, Decker felt that the team did well overall, but had the team been more focused, there might have been some better scores.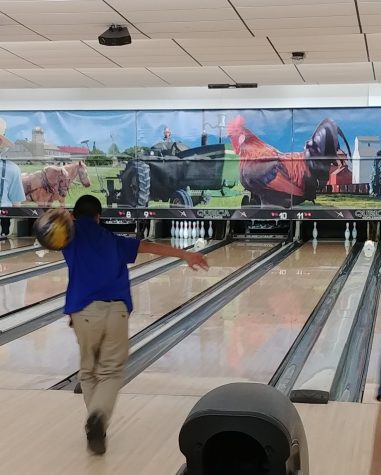 In the three baker games, the Rams scores were: 134, 146, and 132.
In last years' Snow Roller tournament, the Rams placed second to last, so this year was a slight improvement. "We outperformed last year's totals by over 100 pins, and I am pleased with our progress," Logan said.
The Rams' next game is at Hempfield on December 20.