Decorated Doors Spread Christmas Spirit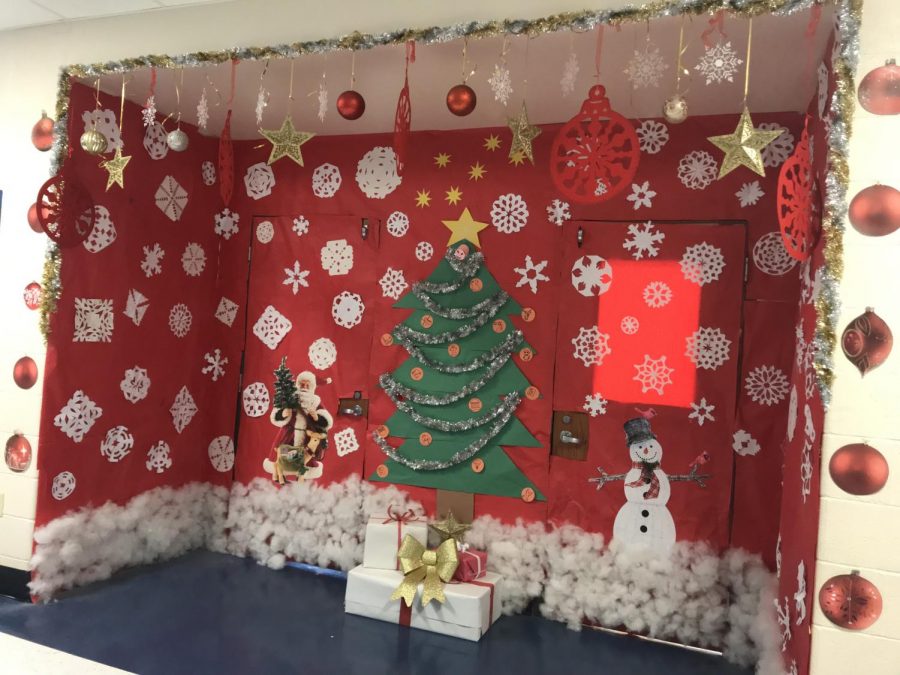 Lily Lohrmann, Reporter
January 10, 2019
Every year, our school kicks off the holiday season with an annual door decorating contest. The teachers and the students in their homeroom decorate the classroom doors with holiday themes.
This year's contest began on December 10 and ended on December 14.
Fellow English teachers Rachel Appleby and Grant Leonard decided to work together to decorate their cubicle. Appleby found a creative idea via pinterest, to decorate the door based on a holiday wall tapestry.
Another unique door, made by art teacher Alex Bastian and his homeroom, shows Santa locked in a walk-in freezer after he had gone in to get a birthday cake, meanwhile a 3-D Shia Labeouf is picking through Santa's bag of gifts.
Some teachers decided to decorate their door based off of their classes, like the KRAM door. They decorated their door with a story titled The Night Before the Friday Show.
Not all teachers have a homeroom, but would still like to participate, so, those teachers decorated their doors on their own.
Social Studies teacher Scott Vojcsik said, "I do not have a first period class. I went the 'easy' way and purchased a door hanging from Amazon."
Although all of their doors were very festive and fun, none of the above mentioned won.
The winners of this years' door decorating contest were wood technology teacher Dan Stauffe
r won with first place, art teacher Wade Walton came in second place, and support teacher Janelle Troupe came in third place.
First place winner, Stauffer's, door was very festive, as it had cookies for Santa with a letter, a fire
place with stockings, and a Christmas tree with presents. Stauffer's class constructed the entire scene using their learned skills to make a 3-D fireplace and table.
Stauffer's door also included a list for Santa with items like wood, nails, a gift card to Starbucks and a new left index finger.
The second place winner, Walton, went a different route, with a rock n' roll themed Christmas door, including a snowman playing the drums, a Santa with Walton's face on it and even paper speakers that are hooked up to real speakers.
Third place winner, Troupe, went with a cute Christmas door, including a Christmas tree, Santa and his sleigh, a letter to Santa with an empty plate, and a fireplace that's lit up with orange Christmas lights.
The three winners and their homerooms enjoyed a hot breakfast from administration on Wednesday morning.
Door decorating at our school is a fun way to spread the spirit of the holidays and many teacher agree.
English teacher Rachel Appleby said, "I think the purpose of door decorating is to celebrate various aspects of the holiday season while giving our students and staff the opportunity to display their creative sides; however, I mostly think it's just because we all need a little fun in our daily lives."
The students also love participating in this fun holiday tradition and find value in the teamwork and effort it requires.
Junior Karlie Fromm said, "I thinks it's a fun way to spread Christmas Spirit in our school."