Seniors Learn About the "Real World" in J.A. Real Life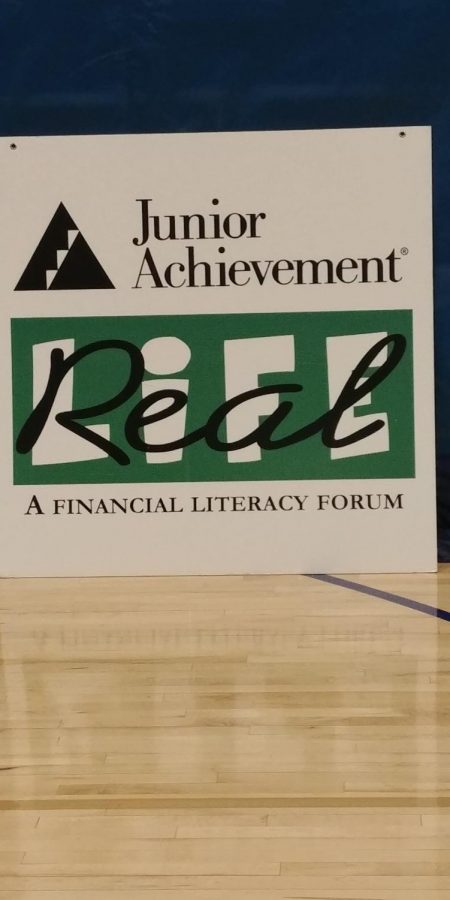 Michael Zabkowski, Sports Editor
April 1, 2019
On March 28, seniors attended the Junior Achievement (J.A.) "Real Life" program as a way to learn more about finance.
According to the J.A. website, The Real Life financial literacy forum has a variety of fun activities built into the day. Also, business volunteers will have the opportunity to work with students throughout the day to introduce financial topics in a non-traditional way.
To begin the day, some students went to the Budget Builder activity and the other students participated in financial games. Those games included: Wheel of Misfortune, Financial Feud, Insurance Jeopardy, Price is Wrong, and The Real Life Game.
After lunch, students flipped activities, so those who were in Budget Builder now participate in the games, and vice versa.
The Budget Builder was a two-hour long activity where already-created dossiers tell students their fictional life: job, marriage status, age, children, income, and taxes. With that information, students then had to budget their money with buying a house, car, and paying for some other expenses.
"My favorite part was the budgeting, because I did not expect to be that hard; it was surprisingly fun, but it was hard, and even though I had a really good salary, I was still stressed out. I didn't realize how many things happened and when you grow up you have to pay for all that stuff. Honestly, it opened my eyes, and I didn't think it would," said thespian Abby Mooneyhan.
Volunteers from the community hosted the budget builder, working with five to six students. These volunteers came from local banks, Exelon, insurance companies, etc.
Senior Charles "Teddy" Castro said, "I really enjoyed interacting with people in the industry, and learning a lot about the real world and budgeting."
When students participated in the financial games, director and business teacher Mike Snyder put them into smaller groups of approximately 20 students. These groups circulated through each activity, spending about 40 minutes at each.
In the game Insurance Jeopardy, a group was split into six teams, and those teams played a Jeopardy-like game with a variety of questions about insurance. Some of those topics included: teen driving, home insurance, and car insurance.
An insurance agent and alumni hosted the game.
Senior Kyle Sinnott liked the Jeopardy game the most, "It was a very team-involved game, and added some excitement."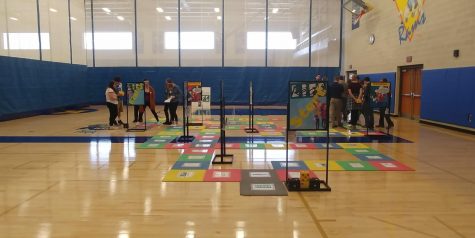 In the Real Life Game, a group was split up into four teams, and then played the game, which was like the board game, Life, but instead of being a board game, the "board" was laid out on a portion of the gym floor.
Also, the teams moved along the board making decisions, such as whether to go to college or buy a house, and then encountering various scenarios, such as inheriting money, or having to pay for a new roof.
The challenge for students is to keep track of a budget while meeting the challenges of life.
Seniors Daemon Davis and Noah Temple like the Real Life Game the most. "I liked the Real Life Game the most because it was fun, got people involved, and showed all that it takes to live in the real world," Davis said.
Temple also commented about the fact that he liked how interactive the game was.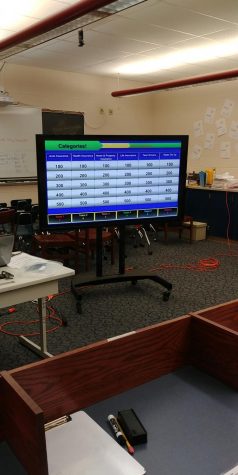 Moreover, the Wheel of Misfortune game was like Wheel of Fortune, but the students were guessing various financial terms.
In the same room was Financial Feud, students guessed the answers to questions about finance. One example was a question about what is the leading cause of being in debt.
Lastly, another game that students played was called The Price is Wrong. In that game, students were split into a handful of groups. Those groups then went around and tried to guess the price of various products.
Then, in the final round of The Price is Wrong, students had to attempt to figure out how much a vacation for a family of four would cost. Some of the items that were included in mentioned vacations were: Hersheypark Tickets, Make Your Own Candy Bar (Hershey's Chocolate World), four front row seats to a Florida Georgia Line Concert, and a one-night stay at the Hershey Lodge.
The day ended in the auditorium where students reviewed the days learning through the Let's Make a Deal game. Student who buzzed in with the correct answer, got to choose between a cash prize or a mystery box prize.