New Superintendent Comes to South Eastern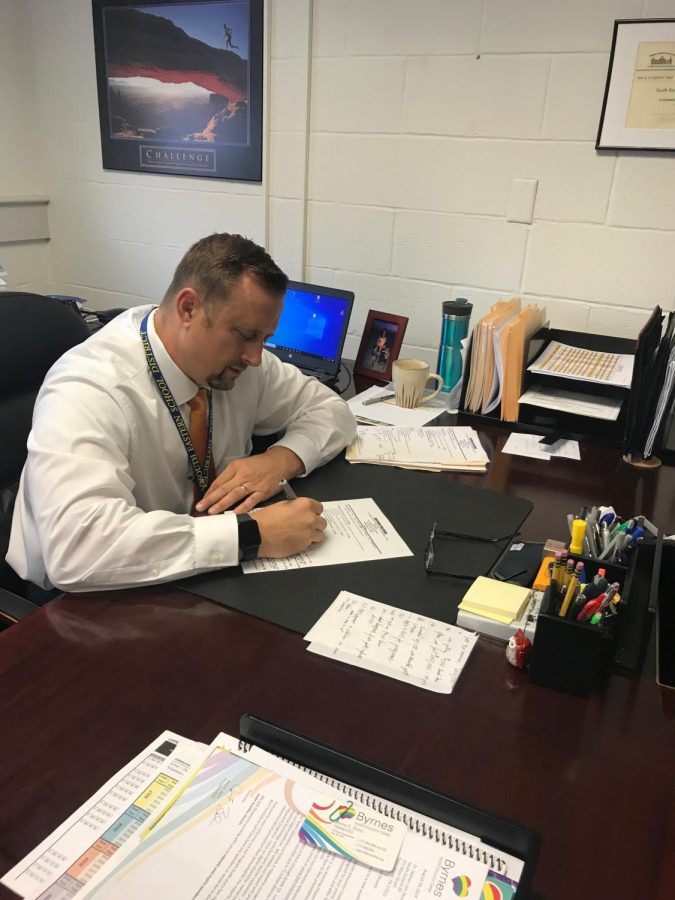 As the students enter the 2019-2020 school year, they are joined by South Eastern's new Superintendent Nathan Van Deusen.
Van Deusen spent nine years educating students in Maryland and Cocalico (located in Denver, Pennsylvania) before becoming Cocalico Elementary's Principal for a decade. 
Van Deusen then started his path to Superintendency by completing his Doctorate of Education in Administrative Teaching and Learning from Walden University and earning his Letter of Eligibility, which included taking a series of courses specific to the job of Superintendent. 
While Van Deusen completed all the educational requirements to become Superintendent in 2014, he chose to stay in Cocalico for three years collecting experience as Assistant to the Superintendent before deciding to move into the role of Superintendent here.
This experience taught Van Deusen how to make decisions and create solutions, which he said benefits the district as a whole. 
While talking about his experience as an Assistant to the Superintendent, Van Deusen said "while a decision may seem best for one building (or one individual), that decision may not always be best for the district." 
He also noted that his role as Assistant to the Superintendent gave him a valuable opportunity to ask questions in regards to creating consistent experiences and equity within the district. "Additionally, the experience helped equip him to make decisions that are based on the best interest of all stakeholders." 
When asked what attracted him to Superintendency in our district, Van Deusen said, "It felt right for the family; it seemed like a great place. Even when I came for my first interview, I was so impressed by the people that I met here."
While moving into the new school year, Van Deusen said he is still in the process of "listening and learning." He hopes to use this first year to asses all of the specific strengths and weaknesses of the district and use this information to create both short-term and long-term goals. 
 Van Deusen would also like to begin his Superintendency by getting out in the community and meeting people so he "can become more encultured and understand more about the culture of this school district." He plans to do this by attending school activities such as sporting events and plays.
When asked about his long-term plans for the high school, Van Deusen was hesitant to name any specific plans, saying that he would first like to know the district before making drastic changes. 
However, Van Deusen did say, "My overarching goal is to create the best school system that's going to make the biggest impact on students so that they are equipped to move into the next phase of their lives when they leave twelfth grade."
Van Deusen believes that teachers have the ability to create lasting positive or negative impacts on students, and he hopes to create an environment wherein students can be successful and find the path that best suits them as individuals.
"Much of this impact is accomplished through the context of how educators relate and interact with others.  So, while the content presented to a classroom is important, how educators present the content to their students can actually be more critical to learning and development."  
 During his time at South Eastern, Van Deusen also hopes to strengthen the community through integrating engaging learning processes and including more technology to help prepare students for the 21st century. 
"Technology is a tool that can aid educators in their goal of student learning.  Technology also allows for efficiencies to occur, so that the focus of educators is solely on the teaching and learning process.  As I evaluate technology products, I do so through those lenses; can the technology create efficiencies and will the technology aid in student learning," Van Deusen said.