Senior Annie McPherson Attends National Band
Senior clarinet player Annie McPherson qualified for National Band–representing the best high school instrumentalists the country has to offer. The event occurred on November 7 in Orlando, Florida. 
McPherson is the only student from our school that has ever made it into National Band.
In order to qualify for National Band, a student must also qualify at festivals for district, regional, state, and then All-Eastern levels in their previous year. Finally, McPherson had to send a video audition to National Band, where professionals judged her abilities.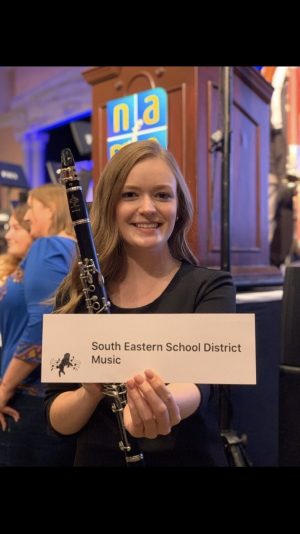 Her accomplishments also include earning a rank of the top ten clarinet players in the entire country.
During her six days at Nationals, she followed a rigorous schedule, which included four to six hours of rehearsal time and then additional workshops that ranged from one to two hours.
Earning a spot in National Band is a rare and impressive achievement. In order to handle the stress of all those competitions, McPherson said, "It is all really fun to me–auditions, rehearsals, performances. When I get stressed, I remember that I do music to tell a story and to take the audience to a new world through sound."
She earned this spot due to an outstanding work ethic and talent. 
"Annie  has always been talented. She has a great singular focus on clarinet. She loves playing it and has the drive to be a great musician," Band teacher Matt Barr said. 
Her work ethic also includes rigorous training and practices. She practices two to three hours a day for nine straight years. She also attends multiple band camps and does everything she can to improve.
"Music is difficult sometimes because there isn't a direct way to measure improvement (like how a sprinter can measure improvement in speed with times they get in their races), but I think I have grown a lot this year. Going to Interlochen's Arts camp this summer is what helped me elevate my playing the most," McPherson stated.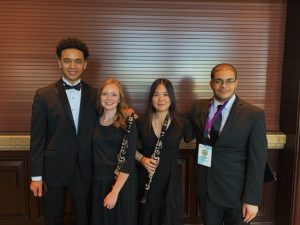 Everyone in her life has been supporting her throughout it all, especially her parents. McPherson said, "They always encourage me to audition for camps, college, and pursue a career in performance."
Annie has already earned many great achievements, but next on her list is to be accepted into college, where she plans to major in clarinet. Upon returning from Nationals she will be working with her pianist to record the last movement of Weber's 2nd concerto for clarinet. "I still need to submit my Prescreening Video Auditions (which are the first round of college auditions)," she said.
According to Barr, once McPherson earns her degree in clarinet, she can go on to audition for symphonies and other big band groups.