Change in Cheer Coach
Miranda Throne, Reporter
December 16, 2019
Time restriction for Throne are many. She has begun her college courses at central Pennsylvania's community college (HACC) Lancaster full time and will not be able to uphold a job, schooling, and the position of Cheer Coach. 
"Between work, school, clinical rotations there simply is just not enough time during my day/week to continue with the position."
She is enrolled in Radiologic technology program, and she is currently studying to be a radiographer–more commonly known as an x-ray tech. Before she became the Junior High Cheer Coach, she was previously working part time at a Mom and Pop restaurant called Collinsville Driv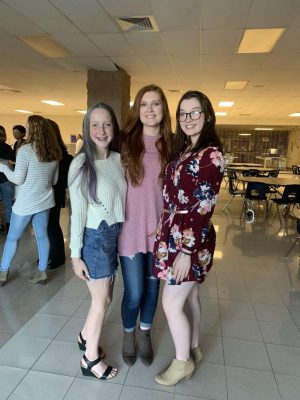 e-In, as well as a daycare teacher at Small Steps Daycare. 
Throne is struggling to deal with the fact that she will not be coaching this next season. She is experiencing many emotions at this time. The feeling of remorse leaving the girls that she has been teaching since they have started cheerleading, but also relief of not having to deal with the hectic scheduling that it takes to plan everything out. "I feel conflicted," Throne said. "A sigh of relief as the hectic season ends and allows me to focus on my schooling, but I guess there is a little disappointment behind that relief as well."
The Cheerleaders are also feeling saddened. The junior high cheerleaders were upset, as all of them have had Throne as their cheer coach since they were in seventh grade.
"Maddy was the most understanding coach I've ever had. I will miss how she always knew our inside jokes and laughed at them even if they weren't even remotely funny," said cheerleader Ashely Donahue. 
Throne's time as coach has made an impact on not just the junior high but all her former Cheerleaders. When asked about what she will miss the most about Throne, Varsity Cheerleader Natalie Manfredi said, "The way she coached and pushed us, she made us do better and better, and I'm going to miss her a lot."