The Top Ten Christmas Movies to Get In The Spirit
For many, Christmas is the "Most Wonderful Time of the Year". I, myself, would agree. To get into that long awaited Christmas spirit, below is a compiled a list of the top ten movies you need to watch, in order of least importance to greatest.
10. Noelle
To start off my list, I feel this new movie that premiered on Disney Plus would be a great way to get into the Christmas spirit this year. Noelle begins in the North Pole, and has the two young Kringle's Noelle (whom they call princess) and the future heir of the Santa Claus throne Nick Kringle, admiring the words of their father, Santa Claus. As the movie progresses, there is a common theme of Nick being the star around "The Pole", and poor, exuberant Noelle in the figurative shadow that comes with being a woman with the Kringle last name. But when Nick becomes too stressed to uphold the duties and fill the large boots it takes to be Santa Claus, they realize who the true Santa Claus should be… regardless of gender. With the usual charm of the beautiful Anna Kendrick (Noelle), along with the award-winning humor of Bill Hader cast as Nick Claus, this makes a great movie that reminds us what Christmas is all about, and that women can make just a big an impact as a man.
9. How The Grinch Stole Christmas
Deserving of a spot on this list, this holiday classic was based on Dr. Seuss's popular story: How The Grinch Stole Christmas. The 2000 remake feature Jim Carrey in the bitter role of the Grinch is acted to perfection in the attempt to portray how truly mean the Grinch really is.. Needless to say, the Grinch's distasteful personality, while single handedly almost ruining Christmas for a whole town, is quite interesting to watch and has been even as we grow in age. The total 180 that the Grinch experiences in regard to his feelings towards Christmas just goes to show how special Christmas time really is. Even for a hateful green creature.
8. Frosty The Snowman
Although "Frosty The Snowman" was once the number one song in the country, this popular story was even better on the big screen. I'm positive we're all well aware of the magical snowman who came to life one day from a simple top hat and some schoolyard students. Throughout the movie the kids develop such a special bond with the snowman that they attempt to board a train and take him to the North Pole, to prevent their friend from melting away along with their fun. The heart-warming innocence of Frosty and the whimsical sense of humor he brings is an easy example of why this classic belongs on the list.
7. The Muppet Christmas Carol
A Christmas Carol is another renowned Christmas movie (sorry it didn't make the cut), but the Muppet's version of the movie was one of the few sorts-of spin offs that was even more successful than the original. In my opinion, with the original Christmas Carol movie, there was something missing. But I think it's easy to say the marionette puppets provide just that missing piece. Ebeneezer Scrooge is a bitter old man who owns the largest financial detested by many in this small town in London. He is well-known for his hatred of Christmas and anything related to the holiday. After a rough Christmas Eve for Scrooge's workers, Scrooge heads home to hit the hay and three ghosts visit him in order to teach him his evil ways should be changed, unless he wants to suffer in the after life. The true measure of how well a movie was made is how it affects you and makes you feel. In the Muppet Christmas Carol, it encourages you to want to be a better person, and it gives you a fun, and hopeful feeling that comes with Christmas.
6. Rudolph The Red-Nosed Reindeer 
Not just the single most catchy Xmas song ever made, but Rudolph The Red-Nosed Reindeer is a family favorite film every "Most wonderful time" of the year. Ever since young Rudolph was a baby calf, he never quite fit in with the rest of the holiday crew. He was ridiculed and teased by many because of his aspirations of being a part of Santa's sleigh, and of course, because of his red nose. Despite the hate Rudolph received, he persevered and used his unfortunate deformity to get him the lady reindeer he loved, and to make his haters his motivators. Or should I say his motisleightors. This is an underdog story we can all get behind, especially around Christmas.
5. The Santa Clause
One of my personal favorites for a number of years, The Santa Clause (entire franchise, really) is one of the top five Christmas movies on the majority of lists. Everything was normal for a quite ordinary Scott Calvin as he heads off to sleep, but then his only son Charlie woke him with suspicions of someone on the roof. Calvin then yells at this figure, and startled, the mysterious being falls off the roof and vanishes. But what remains is a large, red coat and a note that reads "If something should happen to me, put on my suit, the Reindeer will know what to do." Scott notices an odd craving for milk and cookies, and receives a letter in the mail that displays a list of kids who have been "naughty or nice". Charlie suspects his biological father's new gig as so-called "Father of Christmas" and tells his mom and step dad the big news. Believing Scott is mentally insane, Charlie's mother and step dad get Scott thrown in jail. It's all good, though, because in the end, the elves break him out, and Scott (I mean Santa) persuades the two that he is the jolly, old man, and carries out his duties like the Santa Clause must.
4. The Polar Express
Anyone remember the day before Christmas break? Back in elementary school and hearing your teacher say "alright kids, we're watching The Polar Express"? These types of memories live forever in one's mind and is what Christmas is all about. This fairly new Christmas classic had a budget of $165 million dollars, which broke a previous budget record for an animated feature. If you've never seen this film, all you need to know is it didn't disappoint with its budget. The proof is in the stocking, in the form of $311.3 million dollars in gross income. No question, The Polar Express is one of the most successful and loved Christmas movies ever made. After all, who wouldn't want to ride on a train to the North Pole on Christmas Eve?
3. Home Alone
It takes a special kind of movie to be played out of its time of season, but Home Alone and all of its sequels are watched year round across the globe. I mean, you can't disagree with facts, and with two Golden-Globe nominations, the title of highest grossing live-action comedy film, and the highest grossing Christmas film of all time for three whole decades, is quite a resume and reason it is listed top three on every list. And you can't ignore the lesson that is being taught throughout the movie. When the ungrateful Kevin Mccalister loses the family he thought he didn't want, it leads us all to remember disagreements we may of had with a family member or friend, and that it is simply not worth it in the end. You better not shout if you miss this special you filthy animal.
2. A Year Without a Santa Claus
Out of every single movie on this list, this is probably the most critically acclaimed. Possessing a 90% Rotten Tomatoes score (which is especially high for a Christmas movie), A Year Without a Santa Claus is as good as it gets. A sick and discouraged Santa Claus decides to take a year off. He believes no one cares about Christmas like they used to. Determined, two elves Jingle and Jangle set out to find some true Christmas spirit. The mayor claims he will free Vixen, the reindeer, only if the elves make it somehow snow in Southtown. Although the stubborn Heat Miser and Snow Miser must be swayed in this effort to free Vixen, with the help of mother nature, the two brothers conform and make it snow. Eventually, Santa sucks it up and decides he will continue his annual job after realizing he is truly admired across the world, and when people ironically send him presents instead.
1. Elf / A Charlie Brown Christmas
Yeah, it's almost impossible to decide, so number one on my list is both Will Ferrell's Elf, and the famous A Charlie Brown Christmas. What makes this decision so difficult goes without saying. Between the beautiful scores that play throughout Charlie Brown, and the child-like innocence Ferrel's Buddy displays, both make this Christmas special truly different from the others. Linus's explanation of Christmas after the children lost sight of what truly matters will never waver in time and will touch hearts in the way movies are intended. Oh yeah, and what about the talking Walrus Buddy crosses paths with in Elf. Both the witty humor and the excellent manner in which they were put together, makes these two movies number one at getting you into the Christmas spirit. As Buddy would love to say, don't be a cotton-headed ninny-muggins this year, and make sure you sing loud for all to hear.
About the Writer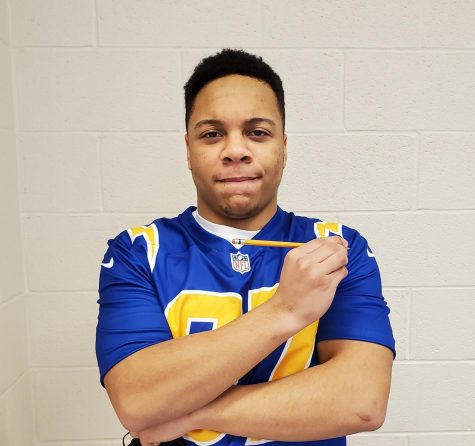 Micah Partee, Co-Editor
I'm a 17 year old junior at KD.

I've been a part of the football team for three years, and a power lifter for two.

I enrolled in journalism because...