Agriculture Education Program Welcomes Kenna and Dale
Students were surprised and excited when, in mid-October, on a walk through the glass hallway, they were confronted with small, bleating goats in the courtyard.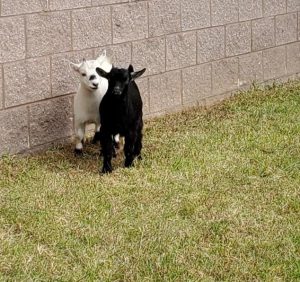 The two pygmy goats are part of the Agriculture Education Program that alumni Hannah Harris is teaching this year. When the Harris initially accepted the goats into the program, they were two months old.
It took students and staff some time to settle on names, but support teacher Liz Wolf made a suggestion and it stuck. The white female is "Kenna", while the black male goat is "Dale".
One of the many purposes for having the goats was to "increase the interest in the program" explained Harris. Clearly, the goats have piqued students' interests as many classes take brief trips to see them throughout the day.
The primary purpose was to education the animal classes on care, physiology, and behavior of livestock animals. "My goal is that students will understand what it takes to own and care for an animal. I hope they will also understand animal behavior because the students have been working on gentling them and getting them used to people," Harris said.
Harris notes that many students know what it's like to care for a pet such as a dog or cat, but livestock is different. This program will afford her the opportunity to start teaching interested students in care of farm animals.
Building and Grounds supervisor Brian McCleary offered the goats to the department. He stated he did so because he likes seeing the students enjoy them.
In order to keep the goats safe and accessible to Harris' room, the maintenance staff built an enclosure for them. They used leftover roof and siding on an extended chicken coop. There is also material from the greenhouse to allow sunlight and warmth into the coop.
Additionally, wire was placed around the enclosure and maintenance welded and hung a gate for ease of access. All of this is located directly off the side door of Harris' room.
Students taking the class help care for the animals on a daily basis, such as feeding and learning about vaccinations. Recently, a vet came to Harris' classes to discuss vaccinations and prescribe some for the goats.
"They're fun and interesting; we keep them company, feed them, and watch when they get shots and take their medicine. We actually give them their medicine," said vet science student Kylee Roe.
Harris explains the students will also be helping her take care of them during weekends and holidays.
Overall, students are excited and have enjoyed watching them grow. Those in her class have signed a safety sheet before any handling or working with them in the pen.
"In the more distant future I hope to expand the animal part of the agriculture education program so we can get more animals," said Harris. Already, she is looking to hatch chickens in the spring.