MiniTHON and National Art Honor Society Collaborate
Four Diamonds is an organization that raises funds that go to helping families who are fighting childhood cancer or towards research against the disease. One of the biggest money makers and events for Four Diamonds in our school is MiniTHON, which the school had to cancel last year for Covid closures.  
Each year, the MiniTHON committee tries to come up with various other fundraisers to boost student participation and raise money.  This year, senior Breanna Riffey came up with the idea to create original portraits of the children who are fighting cancer. 
Riffey explained she got the idea because the National Art Honor Society (NAHS) usually does a memory project–where they draw portraits of children overseas. But, this year, due to Covid, they couldn't complete the project. And since MiniTHON couldn't hold their big event last year, she thought she could combine the two.
Both MiniTHON advisor Grant Leonard and NAHS advisor Erin Bastian loved the idea and encouraged Riffey to pursue permission. Leonard, Riffey, and senior Rosella Stike met with Superintendent Nathan Van Deusen to secure permission for the project. 
When Riffey approached Bastian, she said she "was very interested in the project, as NAHS students complete a service project each year and I was excited that this project would touch children in our local area. Bre worked very hard to make sure this project was well-organized and successful."
With Van Deusen's approval, Riffey worked with the Four Diamonds organization to get permission from parents within our community whose children were going through cancer treatments. In all, she secured 20 families who were interested in having their child's portrait painted.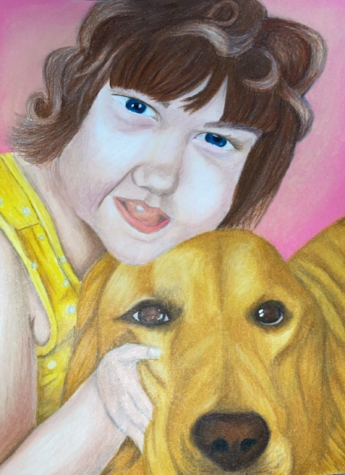 Leonard said, "The true purpose of this project is to do something kind for other human beings, but it also has the added benefit of connecting us with NAHS–they are a talented group of kids. If people happen to sponsor the Portrait Drive to support Mini-THON's goal of raising money to fund research and aid for families who are facing a childhood cancer diagnosis, obviously that is also a benefit. "
Parents sent a picture of their choice to the school, and each member of NAHS is painting a portrait in different mediums such as acrylic, oil, graphite, or colored pencil. 
The organizations tried to advertise by sending e-mails to faculty but didn't see much in the way of donations that way. Instead, students volunteered to go table to table at lunches informing students of the fundraiser and asking for donations. 
"They were actually very intrigued and I think it helped that we gave an incentive, but they were interested in seeing the artistic side, too," said Riffey.
Van Duesen plans to review the final portraits and then the portrait gets sent back to the family of said patient as a gift during the second week of April. 
According to Riffey, while they haven't disclosed the amount of money raised in lunches, she did note that there was more than $500 in the online donor drive for the portrait fundraiser alone.
"This has been a brutal year for an abundance of reasons, and something like this that is personal and meaningful for kids going through circumstances as difficult as they are always appeals to my humanity. It's a bright spot in the abyss of a pandemic," said Leonard.
Mrs. Bastain said, "I loved the idea that students would use their artistic talents to build up the spirits of children going through an incredibly tough situation.  We hope these children will enjoy receiving a unique piece of artwork from our students and that they and their parents will cherish these portraits for a long time."
Four diamonds group is also in the process of proposing a plan for MiniTHON. The plan would be to gather out on the football field to avoid any health issues for covid. We would have all the usual activities as before, but in the setting of outside on the field with masks on. These plans have not yet been finalized or approved.
MiniTHON members have kept busy despite covid, and they don't plan on stopping anytime soon.