The Ground Breaking Oculus Quest II
The Oculus Quest 2 is the most revolutionary and high-tech Virtual Reality device to date. It's portable, fast, reliable, affordable, and immersive all in one. The sleek and smooth design of this amazing device can bring you a whole world of enjoyment.
The Quest only costs $299, and it is completely portable, with no wires attached while playing. The two controllers fit in your hands perfectly, while the comfortable goggles feature built-in speakers. You can adjust the horizontal and vertical straps and even the spacing of the screens to fit the space between your eyes.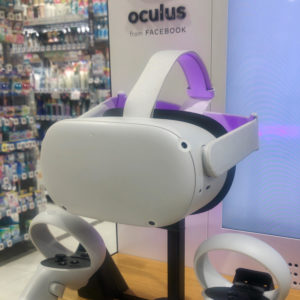 These virtual reality (VR) headsets can also allow you to make your own boundaries that conform to the space you want to play in. This feature is called a guardian, and it's useful to keep you safe while playing. On boot-up, you can actually see your room through the sensors on your headset, then draw your own boundary lines, which look like grids in-game.
You can also watch immersive videos. One of my favorite examples is that you can look around in horror and adventure-themed movies, making you feel like you're in the setting–a whole new world of possibility in your living room.
While the videos are really cool, the main appeal of the device would be gaming. There are a plethora of games that bring you into the virtual world even more. 
The first must-have when getting an Oculus headset would be Beatsaber. It is a music-based game, where you hit blocks with what is basically a lightsaber, at the rhythm of the beats. They offer a wide variety of difficulties, from easy to expert+. They feature game-made songs, and also songs from popular bands like Greenday, Imagine Dragons, BTS, Pan!c at The Disco, and Linkin Park. This is a must-have for VR.
Another great game is Superhot; this is a shooter, brawler, and Matrix-type game, with a catch; when you move, the game moves. You can slow down and even freeze time to enhance your gameplay and survive. It's one of the coolest games ever to come out.
You also have to get Vader Immortal. It is definitely one of the best Star Wars games to come out yet. You can wield lightsabers and kill robots and stormtroopers and even spaceships. You throw bombs, shoot blasters, and even battle against Darth Vader himself.
There are games like ECHO VR where you play a zero-gravity game of ultimate frisbee, VR Chat a goofy, fun game where you can mess with other people, and much much more. All on average for around 30$ per game on average. And best of all, it can all be used on the Oculus Quest.
The Oculus Quest is the best device at your fingertips, and you should 100% save for it or ask for it as a gift on the next holiday.