Softball's Near Perfect Season
Under the guidance of coach John Murray, the softball team had a record year. Even though Covid hit sports hard, and the softball team harder, they still pushed through and did not give up.
At the end of their season, the girls held an  18-2 record and ranked second in the district.
Playing sports at a high school, varsity level is a challenge, and not only is it tough to compete normally, it's even tougher during times like these. Having to juggle a social life, sports, school, and a pandemic at the same time is unheard of.
We all know how stressful this year has been, so this adds flame to the fire of their season.
Despite the masks and social distancing, the team suffered most from contact tracing. Due to those circumstances, the team lost pivotal members throughout the season. Obviously, this made it harder to compete at their best level. 
Without a doubt, that can 100% impact the outcome of the games.
How so? The softball team went undefeated up until contact tracing hit hard for them. Shortstop Carly Vaughn said that "contact tracing affected the team's chemistry."
But did they ever give up? No way. They bounced back and kept getting Ws after Ws.
Team captains were strong leaders throughout the season. Third baseman Brooke Ashenfelter had a batting average of .453 and an on base percentage of .479.
Pitcher Joanna Rubbleman's batting average was .338 and an on base percentage of .390.
The final captain was Vaughn. As a sophomore varsity player with a batting average of .542 and an on base record of .600. she was an MVP in her own right. She had 26 hits and of those hits she got 16 singles, five doubles, three triples, two home runs, and 17 RBI's.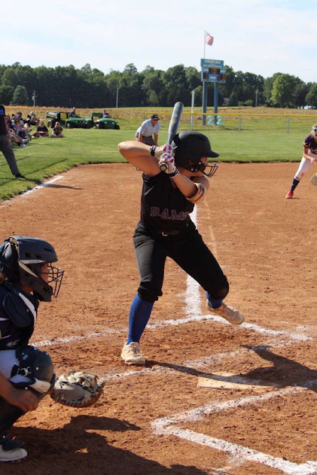 The other captains are seniors Brooke Ashenfelter and Julie Rublemann. 
Lyla Ambrose; the catcher for the team, says that the wins are fun, but the best part of the season has been working together for a common goal and making it to districts as a high seed. She acknowledges that the worst part of the season has been constantly fearing losing teammates to contact tracing, and being on the brink of not being able to play due to lack of players.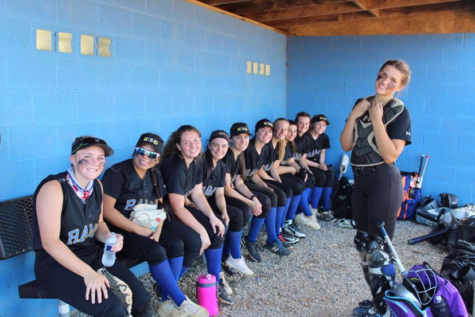 She said,  "It is possible that we may have a perfect season if not for the contact tracing, but we will never know." Ashenfelter agrees that without the loss of players they would not have lost the two games they did.
The most difficult competitor in the season was Central. Players said they went into that game with the wrong mindset, and were defeated before the game even started. If they could have reset, communicated as a team, and played their best individually and as a group, that game could have had a different outcome.
Despite the covid restrictions, and the loss of two games, the team came out on top making it to district qualifiers–even after not having a season last year.
Ambrose felt prepared after not playing for a year. She says it was a great offseason, and everyone put in a lot of work in the beginning of the season to get ready. "We had great team chemistry from the beginning, so it was easy to get back into things.".
This year has been a year full of many highlights but unfortunately ended early in the postseason play. In the quarterfinals, the girls lost to Eastern York 6-3 on May 27 ending their hoped-for journey to states.