New Year, New Nurse
With this new school year comes a new school nurse, Julie Beaver; however she is not new to nursing. Before being a school nurse, Beaver used to be a Navy nurse for eight years.
Beaver comes from a long line of nurses and had a very sick parent as a child, which is what made her want to become a nurse. She chose to become a nurse to spend more time with her two children.
She graduated from York College of Pennsylvania, with a nursing degree in 1989. Beaver said she loved the school and had a great experience, though it had a smaller population when she went.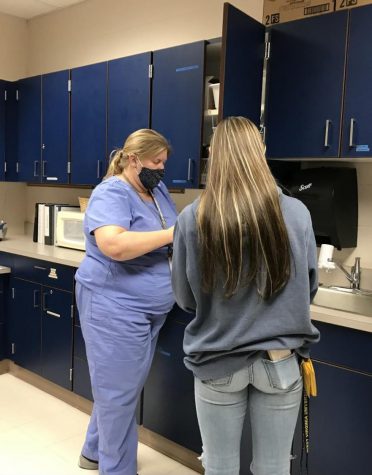 After graduation, she joined the Navy. To join the Navy, Beaver went through Officer Indoctrination School (OIS) in Newport, Rhode Island that lasted five weeks. OIS trains officers in careers like health care for the Navy. Beaver joined the Navy on January 8, 1990, and was on active duty for eight years. She was stationed in the U.S.: Florida, Rhode Island, and California.
Whilst in the Navy, she had to fly a patient from Jacksonville, Florida to Los Angeles, California. Beaver said this was her most interesting experience because she had to stop at different bases to drop people off and pick people up from other bases.
Beaver said, "I really loved being in the Navy because I was able to work in a variety of areas but as time has gone by I feel like [school nursing] has become my favorite."
Beaver left the Navy in 1998 and moved to Connecticut. Here, Beaver worked ten years as an oncologist (cancer) nurse. Then, she spent 15 years as a school nurse for Hamden Public School in Connecticut.
After being in Connecticut for 25 years, Beaver moved back to York County to be closer to family. After former school nurse June Stratemeyer retired, the district hired Beaver.
Licensed Practical Nurse (LPN) health room aide Melissa "Missy" Hostler who worked beside Stratemeyer said, "There has definitely been a learning curve that both Beaver and myself have had to endure before we had the nurse's office running the way we would like, but I believe as the school year goes on we will definitely get there."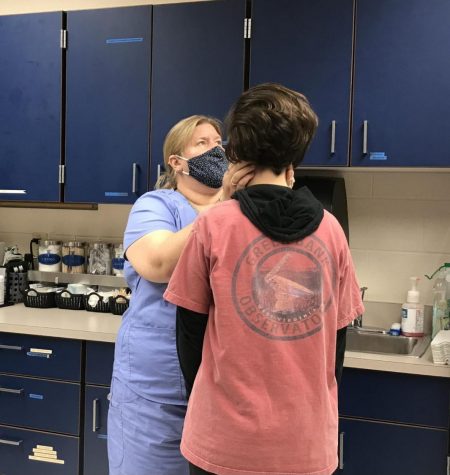 Beaver said one reward of being a nurse is being able to work with amazing people, families, and students. She also said one negative about being a nurse is not making everyone happy.
Beaver said compared to her last school the students in the high school are much more respectful and friendlier. Last year, Beaver worked as a school nurse for a district that has 13 separate schools with large student populations in each building.
Beaver also said that COVID-19 has made being a school nurse much harder because of the contact tracing and the paperwork that comes with it.
In addition to being a nurse, Beaver loves to read specifically any form of mystery. She loves to garden and work in the yard. Beaver owns three dogs, a 12-year-old Beagle, a 12-year-old Terrier Yorkie, and a five-year-old mix.
She also has two kids, a 27-year-old daughter who is a college diving coach at a Texas Christian University, and a 23-year-old son who is a Meteorology senior at Millersville University.
Beaver said, "I would tell anyone interested in becoming a Nurse that it is a great profession because there are so many different types of [nursing] out there and so many great opportunities.
Leave a Comment