Bull Dogs Pummel The Rams on Senior Night
On February 2, the girls' basketball team kicked off the night with a heartfelt ceremony to the girls' sole senior, Elizabeth ¨Lizzy¨ Vipperman.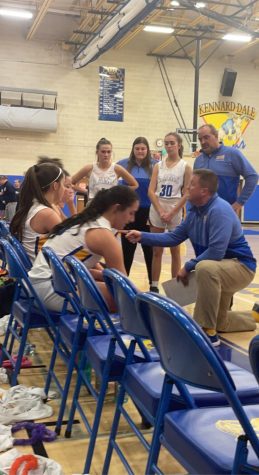 Vipperman has played basketball all four years and has always been resilient in her athletics.
The game against West York began after the ceremony, and the bulldogs began the game with a hot start. 
By the end of the first quarter, the lady rams slowed the bulldog leading start when junior Jenna Morris made a layup and a freethrow securing the rams with points on the board, and  a score of 8-3. 
The Rams kicked off the second quarter with some great movement; junior Bella Huber had a huge 3-point to bring the deficit to five.
In the middle of the second quarter, the fouls began to hurt the Rams as the Bulldogs scored four unanswered foul shots.
The good ball movement continued for the Rams, but they were unable to capitalize on open looks.
Huber made another 3-pointer in the end of the second quarter to cut the lead in half. At the end of the half, the score was 22-11 Bulldogs with Huber leading the scoring with 6 points.
As the teams began the second half, the aggressive passing of the Rams began to hurt them as they began to force unopen looks. With two minutes left in the 3rd, the score sat at 40-11 Bulldogs. 
With three minutes to go in the game, the turnovers continued to hurt the Rams as the Bulldogs went on a 24-0 run.
With a minute left, Vipperman was taken out of the game and was met with a round of applause. Shortly after, sophomore Amanda Merrick stole the ball and scored an open lay up as the final buzzer rang.
The final score read 46-13 Bulldogs in an unfortunate loss on the Rams senior night.