How to Be Creative With Food
Cooking plays a major role in everyone's day-to-day life, but many factors affect everyone, such as the economy, the lack of time, the inability to be creative, the budget, or the fact that they are a beginner.
There are a couple of strategies you can use to overcome these problems and make cheap, efficient meals.
To begin, you should definitely start meal prepping. Meal prep, it's when you cook a meal then portion it out and have a set meal for multiple days. The purpose is to help you budget, reach diet goals by using portion control, and save time.
Another way you can be efficient is by getting meats and veggies and positioning them out in zip-lock bags and freezing them. For example 2 pack chicken thigh,3 1lb ground beef, roast beef, potatoes, carrot, stream beans, cabbage, lettuce.  This saves money and time.
Another way to save money is couponing.
An even more effective way to save money is going into your own kitchen and finding one meat, vegetable, and carb/starch that you already own and making a meal with it.  You don't even have to spend any more money, and you likely have stuff in your freezer or pantry you forgot about.
Yet another way to save money is by growing your own food. It will take some time, but you will eventually never have to go to the market for produce. Some vegetables that are easy to grow and produce a lot are tomatoes, potatoes, onions, lettuce, peppers, cucumbers, and herbs.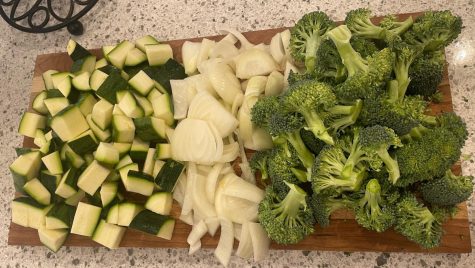 In fact, you can even grow some of those vegetables from the scraps in your kitchen. Did you know you can grow an onion from the root part you typically cut off and throw away? 
Aside from all of these tips, there are also simple but delicious meals that require very little preparation or ingredients. Here are a couple of recipes to give you ideas.
If you're worried about saving time and money, you should think of recipes that don't require as many ingredients. like
chicken pot pie only has 4 main ingredients for $12.35 and only takes about 20 minutes. 
This recipe is baked in one pan; all you need is one knife. So, this recipe will be a quick clean-up, too. 
You'll need:
            -8 count biscuit dough for $2.98
-1 packed frozen mixed veggies $1.18
-Shredded sharp cheese for $2.98 
-1 pack of raw chicken tenders for $5.21 
-A tbsp of pepper and garlic salt. 
Like chicken pot pie, there are a lot of recipes that require only one pot. Recipes you can make in one pan are garlic chicken and rice for $13.20, and it takes only about 35 minutes.
You'll need: 
            -1 pack of chicken thighs for $5.60
            -1 garlic clove for $0.64
            -1 yellow onion for  $1.10 
            -1 stick of butter for $2.28
            -1 box white rice for $2.60
            -1 pack of frozen broccoli for $0.98
            -1 tbsp garlic salt 
            -1 tbsp lemon pepper
            -2 tbsp paprika
If you are not a beginner at cooking and want to be more versatile and creative, you can cook homemade tomato soup for $11.96. 
For this, you will need a blender, baking pan, knife, pot, and ladle.
You will need:
                -4 tomatoes for $3.64
                -16 oz heavy cream $2.98
                -basil seasoning $1.00
                – yellow onion $0.78
                – one clove of garlic $0.64
                – tbsp of pepper
                -2 tbsp of salt
                -1 Italian seasoning
                – frozen garlic bread for $2.88
In today's society, we're all struggling with the rising costs of groceries and the limited amount of time we have to prepare healthy meals for our families. So use these few tips to eventually make your own unique meals and be creative and versatile with your cooking.
Leave a Comment