TICKETS ON SALE NOW FOR THE WIZARD OF OZ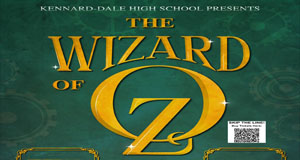 Kennard-Dale High School Drama Club will be presenting The Wizard of OZ this year for their spring musical. The Wizard of OZ is the story of the orphaned Dorothy Gayle (Madison LeBrun) who lives on the Kansas prairie with her Aunt Em (Regan Bosley) and Uncle Henry (Bret Davis) and her little black dog, Toto (Reese). When a cyclone hits, it lifts the house with Dorothy and Toto inside high in the air. Dorothy wakes up in the Land of Oz, where she discovers that her house has landed on and killed the Wicked Witch of the East. Dorothy meets the Munchkins and the Good Witch of the North (Madeline Joyce), who gives Dorothy the dead Witch's magic ruby slippers. Dorothy wants to return to Kansas, but to do so, she must travel to the Emerald City to ask the help of the Wizard of Oz (Rory McLeod). Dorothy sets out on this challenging journey protected by the Witch of the North's kiss.
In the first part of the journey, Dorothy finds several unlikely traveling companions. She rescues a Scarecrow (Ryan Mills) from his lonely life on his pole in a field. The Scarecrow asks to accompany her on her journey so he can ask the Great Oz for a brain. Soon, they come across a Tin Woodsman (Lena Schwanebeck) who has been rusted in place for a year. Dorothy helps rescue him by oiling his joints. The Tin Woodsman also asks to join the trip so he can ask the Great Oz for a heart. As the travelers continue through the forest, a Cowardly Lion (Aidan Silva) scares them. Dorothy slaps the lion for scaring Toto. The Cowardly Lion admits he is a coward and wants to join the others so he can ask the Great Oz for courage.
The four travelers reach Oz and eventually meet the Wizard. The Wizard said he would help the travelers but first they would have to bring him the broom of the Wicked Witch of the West (Alexa Hulson). Will they be able to complete their task and find their way back home? Come to the see the Kennard-Dale High School production of the Wizard of Oz to find out.
The performances are Thursday, March 2nd and Friday, March 3rd at 7:00PM, Saturday, March 4th at 1:00 PM and 7:00 PM and Sunday, March 5 at 3:00 PM. Tickets can be ordered from the link listed below. Tickets are $12.00 in advance and $15.00 at the door.
CLICK HERE TO PURCHASE TICKETS!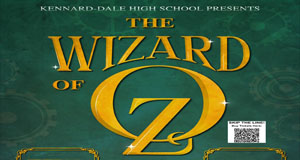 Leave a Comment