Mental Health Fair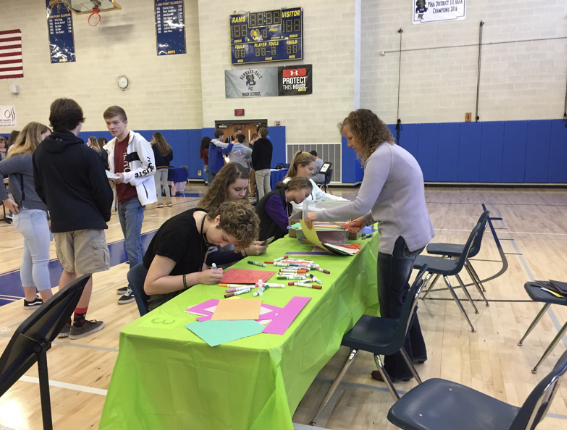 Hang on for a minute...we're trying to find some more stories you might like.
On November 21, all students took part in a Mental Health Fair, which consisted of four different events.
Secretaries first dismissed students to the auditorium for the annual Aevidum Assembly.
When students entered, members of the Aevidum club gave out slips of paper with a positive statement to spread kindness to students.
Some of the statements were: you are important, you are beautiful, and so on
The assembly started off with choral students: Kasey Karroll, Abigail Mooneyhan, Madelyn Rader, and Julia Wecker, singing "This is Me" from the movie musical The Greatest Showman. 
After the song, students were able to explain the purpose of their theme this year, which was "self-growth" and show a video of students giving each other compliments and revealing the students' reactions.
After the video, they showed another video of gym teachers Laura Gilkey and Joseph Hasson answering questions about their high school experience, their observations as gym teachers, and generally, discussing personal well-being and learning how to be comfortable in their own self-worth.
Next, students read advice that teacher's wrote to their 16-year-old selves.
History teacher Andrea Walton spoke to the school about her advice for overcoming hardships and reaching out to people whom they trust if they need help.    
 Following that, senior Timothy (T.J) Grimsley and sophomore Caroline Henning acted out stories that other students anonymously submitted and the drama class wrote, these included reflections on positive and negative interactions they had had in their lives.
After the students acted, senior Kayla Huber told a little bit of her story and also gave students some advice to reach out to others.
Finally, English teacher Jenna Ritter shared what it's like to be diagnosed with depression and how she's learning to overcome those struggles.
Some students thought the assembly was a good kick-off for the mental health fair
"I really enjoyed the assembly. I thought it was a good way to start it, I found it to be enjoyable" said freshman Brilynn Shipley.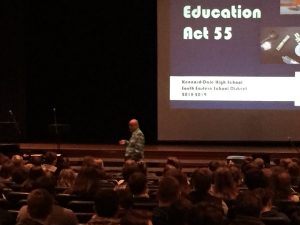 After the assembly was finished students, those who created the mental health fair staggered students into three different groups. Each of the three groups would take part in an Opioid Presentation, the mental health fair, and an activity to help cope with everyday stress.
The fair was for students to go around the gymnasium and look at or take part in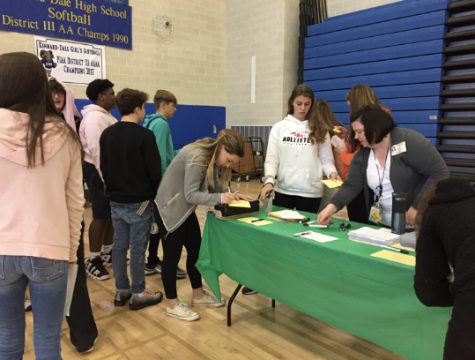 different presentations. Most offered information about their company and what they offer to students.
The health fair had 13 different venders featuring companies like: Wellspan, Anytime Fitness, Suicide Prevention of York, Jewish Community Center (JCC), Systems of Care, and so on.
Students had each presenter punch in a card they received when they entered. If a student visited 12 stations, they could join a raffle for a chance to win different gift cards.
Another one of the groups visited a break out session that students voted for two weeks prior to the mental health fair.
These sessions offered a variety of ways to cope with stress, and faculty and staff hosted them in various rooms throughout the building.
There were classrooms, which had activities like: Zumba, tai chi, essential oils, journaling, and so on.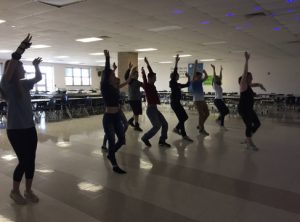 "My activity was Zumba, and I had a lot of fun doing it," said junior Beyoncé Hannigan.
Others found these activities helpful as well.
"I thought it was helpful; it actually worked. She [English teacher Jenna Ritter] made us listen to a nature video and just lie there, and it released stress from different parts of the body. Usually, that kind of stuff doesn't' work for me, but for some reason it did, and it was weird but cool," said junior Josh Vipperman.
Students who were not in the fair or sessions attended an opioid presentation in the auditorium. Health teacher Ron Brosse gave students a presentation about different types of drugs, how they can affect us, and warning students of the various dangers of these drugs.
"The presentation was okay, but maybe we could possibly change the presentation up a bit to make it more enjoyable," said freshman Rianna Davis
For a full list of all vendors and activities available during the Mental Health Awareness day, please visit here.