From Player to Coach: Carrying on the Legacy
Not only did he make his mark as a 1995 graduate, but Alumni Aaron Eaton is continuing to impact the community through coaching, all while navigating family life and work.
Eaton was heavily involved in school sports during his high school career. He dabbled in baseball, soccer, and a few others, but his main talents and focus were basketball.
"I had the great pleasure to be coached by Coach Rudisill. He had a major impact on me as a person and as a player. He is still a mentor and great friend today."
Throughout high school, Eaton was able to contribute to two undefeated regular seasons, three Division championships, a County championship, and a District 3 Class 3-A championship. He also made the state playoffs twice.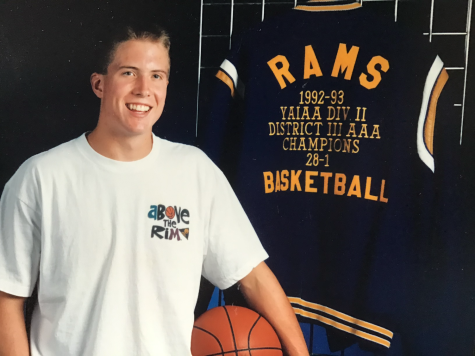 Eaton being the game changer that he was, was able to score 1,236 points over the course of his high school career.
"I spent a lot of time working out during the spring, summer, and fall becoming a good shooter and scorer. I was able to score at all three levels and shot a lot of foul shots in games," said Eaton.
Although Eaton was a 1,000-point scorer, this is not something that he focused on. Sports were also an important part of how he formed friendships and learned sportsmanship.
Eaton said, "I want everyone to experience success and create bonds and friendships that last a lifetime, much like I did." 
This selfless attitude is one of the many things that makes Eaton stand out from others.
For Eaton, winning was very fun, but it's not the actual wins that matter in the long run—it's the relationships that you form.
"Some of my closest friends are people that I played high school basketball with. We still hang out and tell old stories and relive the past," Eaton shared.
His high school team finished with an overall varsity record of 91-18. 
Eaton played four years of basketball at the Philadelphia College of Pharmacy. This is also where his days of playing competitively ended, as he was burned out after playing competitive basketball for so long.
Fast forward 15 years to 2016. The district found a need for a girl's basketball coach and gave Eaton the chance to coach alongside Rudisill, and he jumped at the opportunity to work with his mentor.
When asked about what it was like to be in the gym again, Eaton said, "I immediately fell in love being in the gym every day and working to help grow our program. It is now a passion and my favorite hobby." 
In 2018, Eaton became the head girls basketball coach and immediately began growing the program one step at a time. 
His two main focuses are helping each girl grow their own abilities and for players to have an overall positive experience in the program. 
"When your team is really good, you keep trying to get better. When your team is average, you keep trying to get better. When your team is not very good, you keep trying to get better," Eaton explained. 
He is always working to help each girl succeed regardless of where they are in their basketball skills.
As head coach in the 2018-2019 season, Eaton won a Division II championship in overtime versus Gettysburg. He also won his first State playoff game as head coach in 2018.
Eaton also takes pride in beating Eastern in overtime with a quick draw up of the play that is now known as "Elbow."
He has had the unique opportunity to coach both of his daughters. 
Eaton said, "The best part of the experience is getting to spend time with them." 
Coaching basketball is not the only thing Eaton balances. He also works full-time at a company called ATTAC Consulting Group.
Eaton is the Senior Vice President of Corporate Strategy and Product Development. He helps the company grow by building new capabilities to sell to insurance companies, working with the staff to help sell projects, and working to make the company better positioned in the market so that companies want to buy their services.
Although managing two jobs at once can be tough, Eaton likes the "no days off"  mentality. 
Being in the gym is something Eaton would not want to give up and takes a lot of pride in. Eaton said, "If I could coach full-time (and still pay my bills), I would absolutely do that."  
His commitment to the girls on the team and the basketball program as a whole is unmatched.
Leave a Comment