Girls Varsity Lacrosse Struggles in Loss vs. Hempfield
On April 9, the Varsity Girls Lacrosse team played a home game against the Hempfield Black Knights. After being down at halftime, the Rams made a bit of a comeback, but ended up losing to the Knights 14-6.
Looking back at the game, head coach Kelly Wetzel said, "[Hempfield's] speed in transition hurt us. We did not execute as much as we could have; we had way too many turnovers."
While the Rams lost the game, they did start the game on a good note, getting out to a 3-1 lead after the first two minutes of play.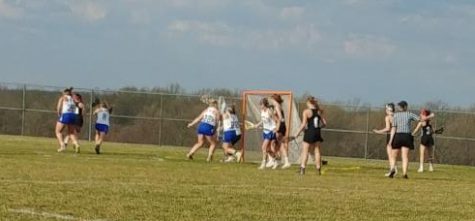 "[Hempfield] got to warm-ups late, so it was a bit of a slow start for them, and we took advantage," junior Amelie Gamache said.
But, then, in the next three minutes, Hempfield managed to tie the game at 3-3 with two goals.
Hempfield briefly had a 4-3 lead, but after nearly four minutes in their offensive zone, junior Jenna Soukaseum scored a goal, tying the game at 4-4.
About four minutes later, the Knights started building a lead, getting out to a 6-4 lead after scoring two unanswered goals.
Furthermore, Hempfield went on to score three times in the last minute and a half of the first half, extending their lead to 9-4 at halftime.
Wetzel told his team at half time: "We have to play better, got to move. Off-ball moving opens up lanes and keeps the defense from swarming to the player with the ball."
In the first six minutes of the second half, Hempfield scored two more goals, finishing off their run of seven unanswered goals. The Knights led 11-4 with about 19 minutes left in the game.
After about two minutes of play, Soukaseum scored again, cutting the Hempfield lead to 11-5. Then, with about 13 minutes left in the game, Gamache scored for the Rams, but the Knights still lead 11-6.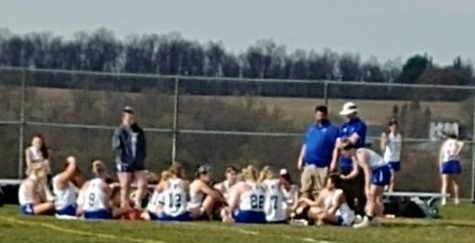 From then on, Hempfield was the only team to score, and they did that a total of three more times in the last 12 minutes of the game. With that being said, the final score was 14-6 in the favor of the Black Knights.
Gamache said, "I really thought we would comeback and win. Some people mentally checked out and people have to want to win. [Wetzel] gave us a reality check at halftime."
Gamache also noted that after this wake-up call of a game, the team is ready for future games.