Eight Students Inducted into the National Art Honor Society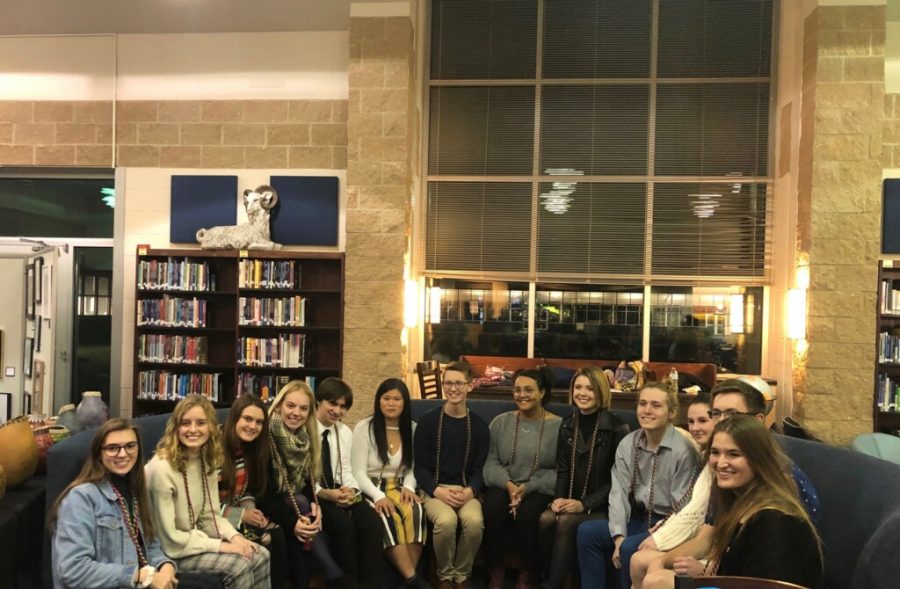 On November 13th, the National Art Honor Society (NAHS) inducted eight students at a ceremony in the high school's library. Along with these eight students, 14 seniors received their graduation cords. 
Assistant Principal Chad Brindle and NAHS advisor Erin Bastian began the ceremony at 7 p.m. with their opening remarks. Bastian then recognized the club officers and seniors, who would be receiving their graduation cords. 
Following this, NAHS President Alyssa Davis gave a speech on the importance of art and the art elements. After Davis' speech, Vice President Hayley Jackson led the new inductees in the NAHS pledge. 
Jackson instructed the new inductees to stand and repeat the pledge, which is: I will in my life, to the best of my ability, through my talents in art, help to create a more beautiful world for myself, for humankind, and for all living things. 
Jackson proceeded to light the NAHS candles, which are in the primary colors red, yellow, and blue. Following this, Davis announced the new inductees, who received their certificate of membership and NAHS pin. 
Historian Nicole Nipper then gave the NAHS charge: Take of the world its colors and forms, its lines and textures, its balances and movements and spaces; combine all these into a beautiful statement of what it is to be human. Give back to the world the same element of beauty that you as an artist take from it. Create beauty in the world with your talents and your living. 
Treasurer Seth Thompson presented on behalf of custodian Sylvia Bisker, who was intended to speak at the induction. Due to unforeseen circumstances, Bisker was not able to attend the ceremony. Thompson discussed Bisker's gourd painting process.
Secretary Sydney Hutchison then closed the ceremony, allowing friends and family members to browse the student artwork on display. 
Bastian, who has been NAHS advisor for five years, always looks forward to the Induction ceremony every year. "It's such a great way for students to showcase their talents," she said. 
The Induction ceremony is the first of many major events for NAHS. Students have been creating items to sell during the Holiday Bazaar, which will take place on December 5th and 6th in the main lobby. "It always surprises me just how professional these kids are," said Bastian.
After this year's seniors graduate, Bastian is looking forward to seeing new faces and new leadership at next year's Induction Ceremony.