Science Teacher Develops New Teaching Technique "Knot Friday"
 Science teacher Gino Salvitti developed a new teaching technique for his science of survival class called "Knot Friday". Salvitti developed this activity so he could teach two subjects concurrently.
One subject Salvitti was looking to teach his students was knot tying. "Knot tying is an essential skill in survival and takes a long time (many hours of practice) to master," Salvitti said. Also, with only a semester for the class, the time to teach all of the material is limited.
Furthermore, Salvitti said, "Knowledge of knots is needed to tie a nonslip knot for field dressings and tourniquets during the First-Aid portion of the class. It is also necessary for shelter building, trap construction, and self rescue, which are all elements of survival."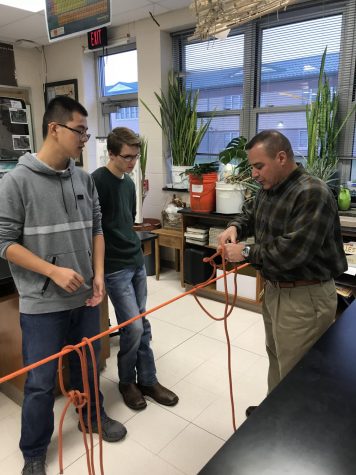 As a result, Salvitti taught at least two new knots on Fridays every other week. On the alternate Fridays, the class spends time practicing and testing their progress.

Students also had a week to practice their knots before presenting their new abilities to Salvitti. At this time, he would acknowledge whether they had adequately acquired the new skill, after which, they could add the new knots to their skill set.
Salvitti reported that most students had success with Knot Friday. Some students needed more time practicing, but every student learned from the practice.
One of the participating students, senior Cole Sinnott, said, "I liked knot Friday, because it gave students the chance to actively participate in a hands-on activity that could be applicable in a real life, everyday situation."
Sinnott also added that he liked how Salvitti went into depth in each of the lessons.
"I enjoyed knot Friday because it's different from what we learn in class," senior Ashley Grove said.
While it seems that Knot Friday was successful, Salvitti said that Knot Friday lessons would have been better in an outdoor environment, but due to time constraints he was unable to make that happen.
Junior James Devereux said that although you have limited time in the class, it does prepare you for any situation.
While most students did not have much to say about how Knot Friday could be improved, Grove brought up the idea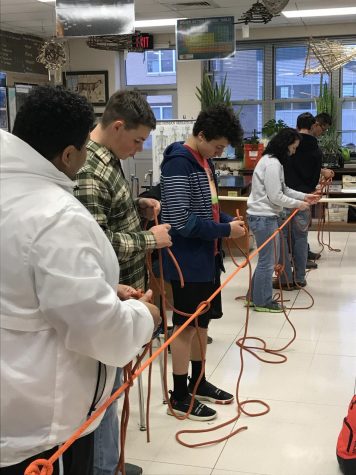 about possibly having students pick some different knots to learn. Those knots that students pick would be taught 
along with the knots already being taught.
Overall, Devereux said he would like to see Knot Friday be a lasting part in the science of survival curriculum.
Grove agreed, "I would say that Knot Friday was a fun experience, that I think all students who love the outdoors 
should try."
While Knot Friday is over for this year, Salvitti said that Knot Friday will be a part of the class for as long as he teaches the course.